SunLife's Archi(ve)pelago Series 
"The land of the 1000 islands", as they coo it, Croatia is recognizable in the world for the scattered patches of land in the Adriatic Sea. Scattered and shaped by natural forces or by the hand of God as pearls on a turquoise surface, it doesn't matter. Every one of these islands is our nation's pride and, although we cannot even list all of them here, we can present you a short info/guide for the southern Croatian islands that find themselves between the two Dalmatian gems, Split and Dubrovnik. The best, and in most cases the only way to reach those, is by boat.  We will unravel them to you one by one in our Archi(ve)pelago series, handing you the best places to visit, to eat, to drink, to swim, to anchor, to relax.  
KORČULA  

Giving an island black etiquette doesn't make it attractive at first, don't you agree? The Old Greeks had to differentiate their island and Korčula in the Adriatic, naming it Korkyra Nigra or Black Korkyra. The color can seem strange if you look at this island nowadays, but when you have forest covering more than 60% of your surface and a blackened line of stone between the sea and those dense pine trees, no wonder they would call it black.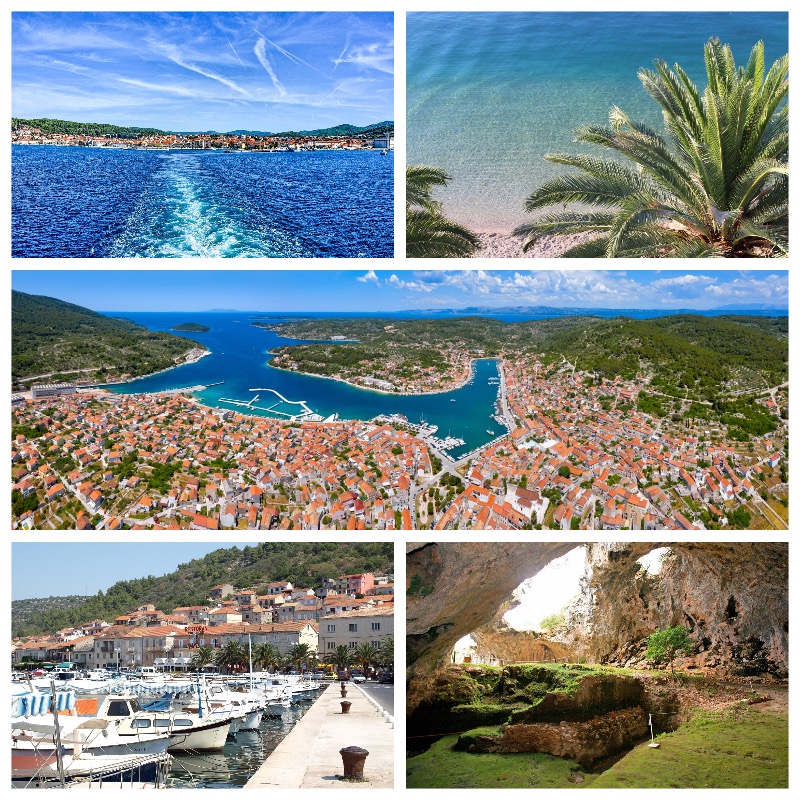 No blackness to see when you come before it. Approaching from the west, you will reach the small island of Proizd, another jewel in the crown. Beaches Srednji bili bok or Batalo (once the best beach on the Adriatic) are perfect for relaxation after a long sailing, whether on the rocks or tiny pebbles.  The bay of Vela Luka opens up before you from Proizd, so glide inside to the new marina (hotel facilities are free to use for marina guests as well) or drop the anchor in the bays around the town. When you get yourself off the boat, it's time to explore. Exploration works best with the full belly, and you can fill that up in the marina Restaurant Luky or at Konoba Bata. Alfa is the go-to for those that need to taste local pizza wherever they go. The exclusivity in Vela Luka measures itself at Pičena bay restaurant, only reservation works! Best to walk off your meal through Vela Luka's promenade and look at the artwork on the Mosaic path. Mingle with locals, and ask for the Croatian music legend Oliver Dragojević, born in Vela Luka. Compare his final visit with your first. Unforgettable, believe us.  To step it up a notch, go hiking up the northern slope, where you will find  Vela Spila cave, the proof of continuity of living in this area. The artifacts found inside the cave and other interesting findings and art you can find at the Cultural Center. For a great view, go to the other side of the town and climb the old fortress on Hum. Either hiking or on a bike.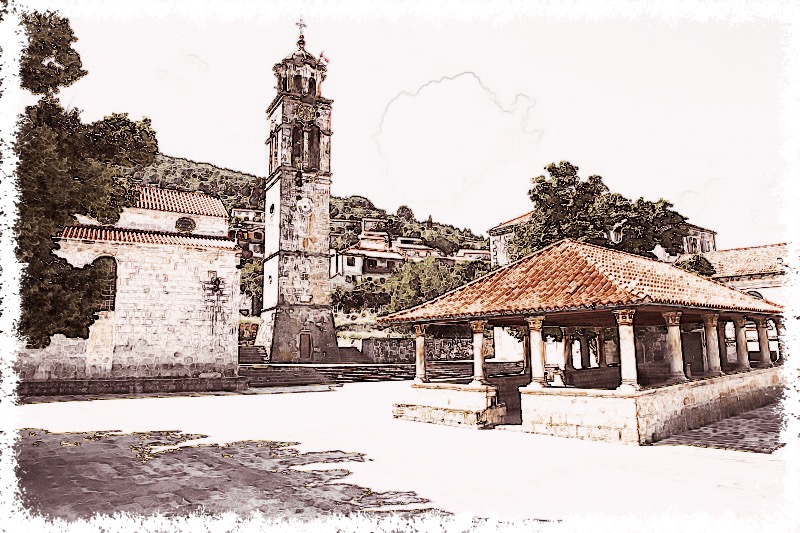 You can also reach Blato on your bike. And you want to get to Blato. A typical inland island town of Dalmatia, Blato offers the atmosphere, people, and stories. You will hear some funny ones along the main street, the second longest Linden tree line/arbored walk in Europe, or the All Saints church's beautiful square. Beautiful, and in the shade, so even better. :) Nevertheless, the best feeling of Blato and its inhabitants, life as it used to be, you will experience in the private Ethnographic collection Barilo.  Pizzeria Tinel seems like a place to visit if you want to grab a quick bite. Back in Vela Luka, a good idea would be to jump into a refreshment. Where? Just point the finger, and you will find a gorgeous beach. You can check them out here!
Continuing further around Korčula, you can make a stop at Gradina bay now or on your way back. Just make sure you make it as it is worth it.  Sail on and head on East past Proizd and catch the Maestral, NW wind that will drive you along the northern coast. You can expect a fair share of sailing, so plan stops for refreshments like Meduza beach if you don't mind larger pebbles. Prihonja is next in line, perfect to feel the atmosphere of a small beach in a small village on the coast. That being if you catch a spot for your beach towel. The wider one you will find in Garbin, and the narrow one, perfect for dropping anchor and enjoying the solitude, is Kokoš (Eng. chicken - unusual, yes. Beware, this could have been the last stand of the chicken tribe)!
Of course, one cannot live solely on beauty and air. That's why you need to visit Agrotourism Bačić for, if nothing else, one of the best wine tastings on the island. Further East, Konoba Kraljević offers a good alternative. After those fulfillments, the best way to process the indigested is to prostrate yourself on the nearby beaches Vanesa or  Prigradica. Set sail, direction East and search for Rasoha or Babina for refreshment, or continue along this coast full of beaches like beautiful Samograd, Vaja, Račišće, as well as the town Račišće where you can take a walk and grab something to eat in Vala. You can hop to Kneže, a nice-looking bay with a "wild" beach and bistros like Dalmatino and Fortuna. Closing up to the Korčula town, you will find...guessing already?? More beaches! Tri žala are practically three beaches in one, following up with Mala Vrbovica and an unusual staircase of Velika Vrbovica. Žrnovska Banja serves as a break where you can drop an anchor in a protected bay and eat at La Banja while enjoying (again!) beaches around like Medvinjak, Ispod Duvana, and other patches of beaches around.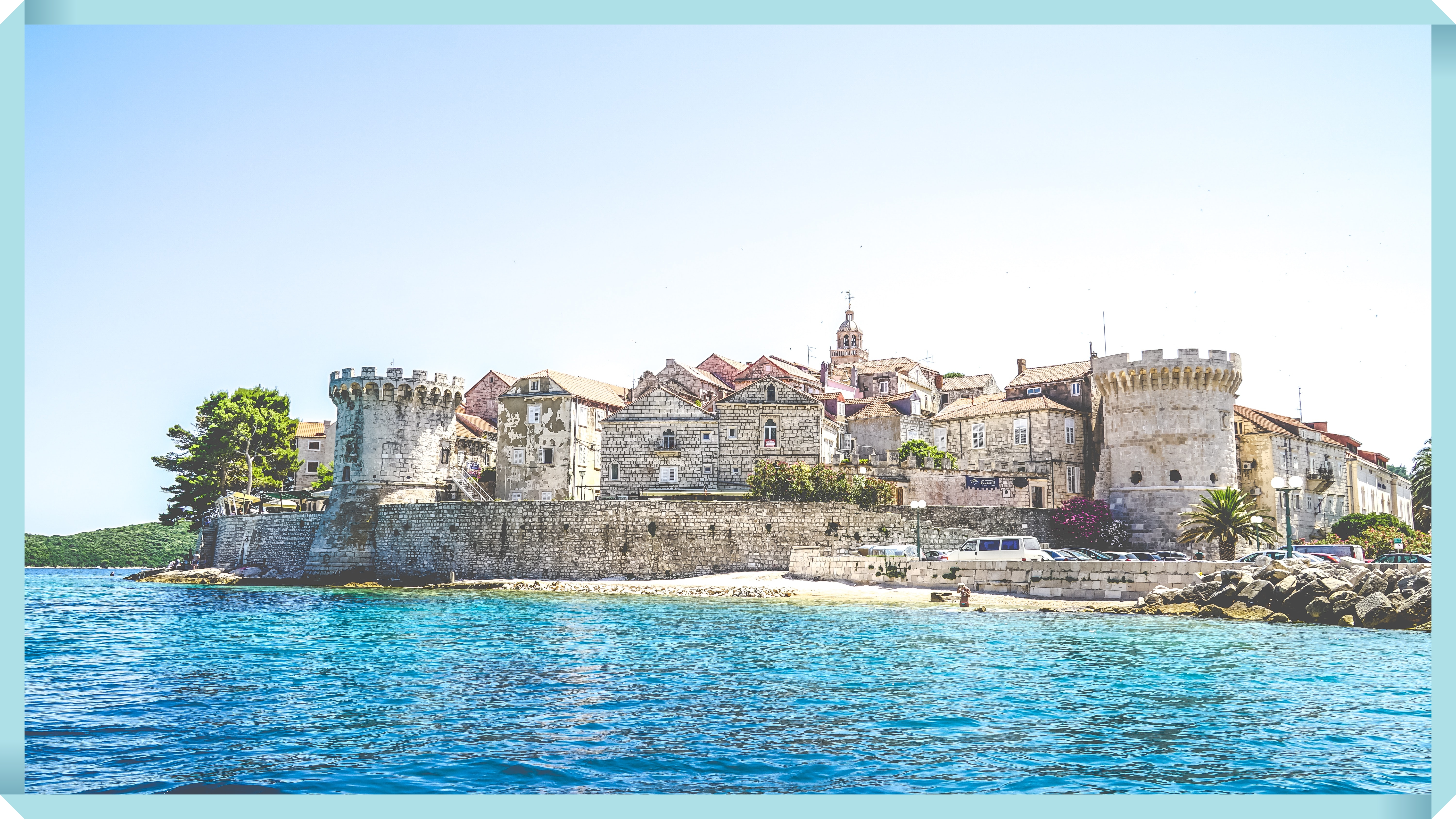 Taking a walk to Korčula is recommendable if you don't want to stress yourself with finding a berth in ACI marina or the port, and no stress is more than recommendable to enjoy the beautiful Korčula in full. And there is much to enjoy. Although it is a little town, even more if you consider the old center, but with plenty of history and tales to tell. Taking a walk, you will notice the ever-present breeze as the town was designed with a rib-shaped raster of streets to secure refreshment in the summer from the western and shelter in winter from cold northern winds. Magic coming from those narrow streets is what you will be aiming for, either by checking the chain of churches from St. Mark's to St. Michael's if you're into that, a chain of restaurants/bars on the promenade along the former town walls, or just chillin' on the rocks beneath the walkway. TripAdvisor can recommend Aterina, LD Restaurant, and Filippi, adding Konoba Škver to the equation.  Of course, nothing is successful without something sweet on top, so visit Cukarin to enjoy the traditional cakes and cookies of Korčula. What we are certain of, is that, if you decide to go inland a bit, and you should at least check the special forest reserve Kočje, the best options are Konoba Belin and Konoba Gera. Those two will bring you back to your senses of Dalmatia after you experience the different world of Kočje, a touch of rain forest in the middle of a Mediterranean island. If you are up for another surprise while hanging around, you should check the island of Badija where you will find cute little creatures usually found in forests in northern, colder areas. Those are European fallow deers, brought here from Brijuni, always eager for an apple or something similar...not so much craving for touch. They will guide you in and show you the way to the monastery worth visiting, just as the fra Bernadin Sokol gallery. Badija is all about relaxation...Dalmatian "pomalo".  Moro Beach Stupe is also into relaxation, only a bit of a different kind. You can taste one of our Mojito de Lito mojitos there.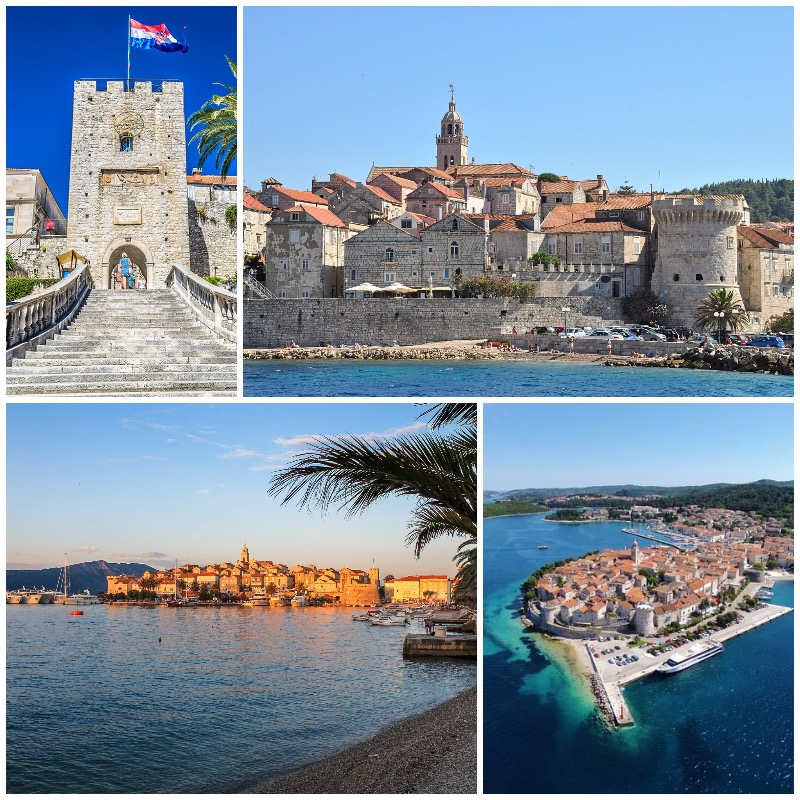 No, we didn't forget. Marco Polo was an inhabitant of Korčula, and you can visit his museum or the house in Korčula. If anything, you will learn something and should leave claims to the claimers.

After you squeeze every beauty out of Korčula, hop in your boat and continue to Lumbarda, a small town with beautiful little islets in front and full of...beaches, you would never guess! Check them all out HERE! That not everything is on the beaches and islets hoping, Lovrić winery will show you the proper Croatian hospitality with indigenous wine and local snacks. Larger stuff to taste one can find in Škafetin or Torkul for pizza lovers. Bellyfull! Round the island at cape Ražnjić and head west, back the way you came. Rasohatica bay will be the first stop you can anchor and enjoy the Adriatic once again. You never know how the sea will feel on the other side of the island. Pavja luka is the next one, with a Konoba bonus. At this point everything probably feels like in a big supermarket, full of products you want, but can't have at the same time. So here are some more! Orlanduša and Bratinja are like sisters from the same blisters (yeah, I know, but it rhymes...you've heard worst), and Bačva is the bonus one, with Konoba.  The bonus after bonus is Pupnatska Luka, full of bonuses as it is one of the most beautiful beaches on Korčula, remote, and yet full of things to do. Mate will take care of your thirst and hunger. Do you think we're done?? No bonus, Jugo, Čavića Luka. Bonus one, as we make the rules, is Žitna, but only because of Konoba Albert in the town of Žitna. That view can solely be the only thing you will eat! Nevertheless, if you decide to skip it (why, oh why?!?!), you won't regret it as Brna is perfectly situated for boats, Mali Jakov for your bellies, Brna-rent inside of Mali Jakov for renting bikes or scooters, and Žal and Istruga (has a recreation center with two tennis courts, a bocce terrain, tables for table tennis and terrain for sand volleyball) are beaches on Korčula for goodness sake! If you want to rent a vehicle in Brna, you can reach all sorts of great places like wineries Merga Victa and Toreta in Smokvica (Brna was the port of Smokvica for exporting wine). Pedaling up towards Čara, measure your intoxication on the sun rays and, if you take it as insufficient, the only reasonable thing would be to continue in one of the wineries there. The sound one would be Pošip Čara (not only because of the straight road where you can go through another self-testing). Cultural uplift can be acquired at St. Peter's church or through chit-chat with the locals. Remember, you have to get to the boat, along the slope, on a bike...your own field sobriety test! Korčula style baby!
Back on the boat (fingers crossed!), we are also back on our beach tour with Vela Prižba, a bonus one complemented by Danny's and Ratak. Sailing along the archipelago of an archipelago (weird country), aim for the bonusless Gradača, Nova, and Slatina, helped by Bajko to reach a bonus, if you agree.  Rounding the island once again and getting near Vela Luka, you can anchor in Poplat bay to visit Poplat and Loštura beaches and maybe reserve your table at Amor's if you don't plan on revisiting some places in Vela Luka.  We beg you to revisit us as we need our boat this summer still, bye-bye to Korčula, and come-come to Split!
 Dario Jerković