VIŠKA REGATTA
By definition, tradition would be a "long-established custom or belief that has been passed on from one generation to another." Brushing teeth can be characterized as a tradition in that way, can it not? Passed on from parent to child, custom, and belief in one, brushing teeth is something you do every day because you believe that keeps your teeth and gums healthy. Exaggerating a bit, of course, but you get the point. Tradition is something bigger than a pure definition. A true tradition is something that occurs regularly over the years, has a meaning and purpose to those who started it in the first place.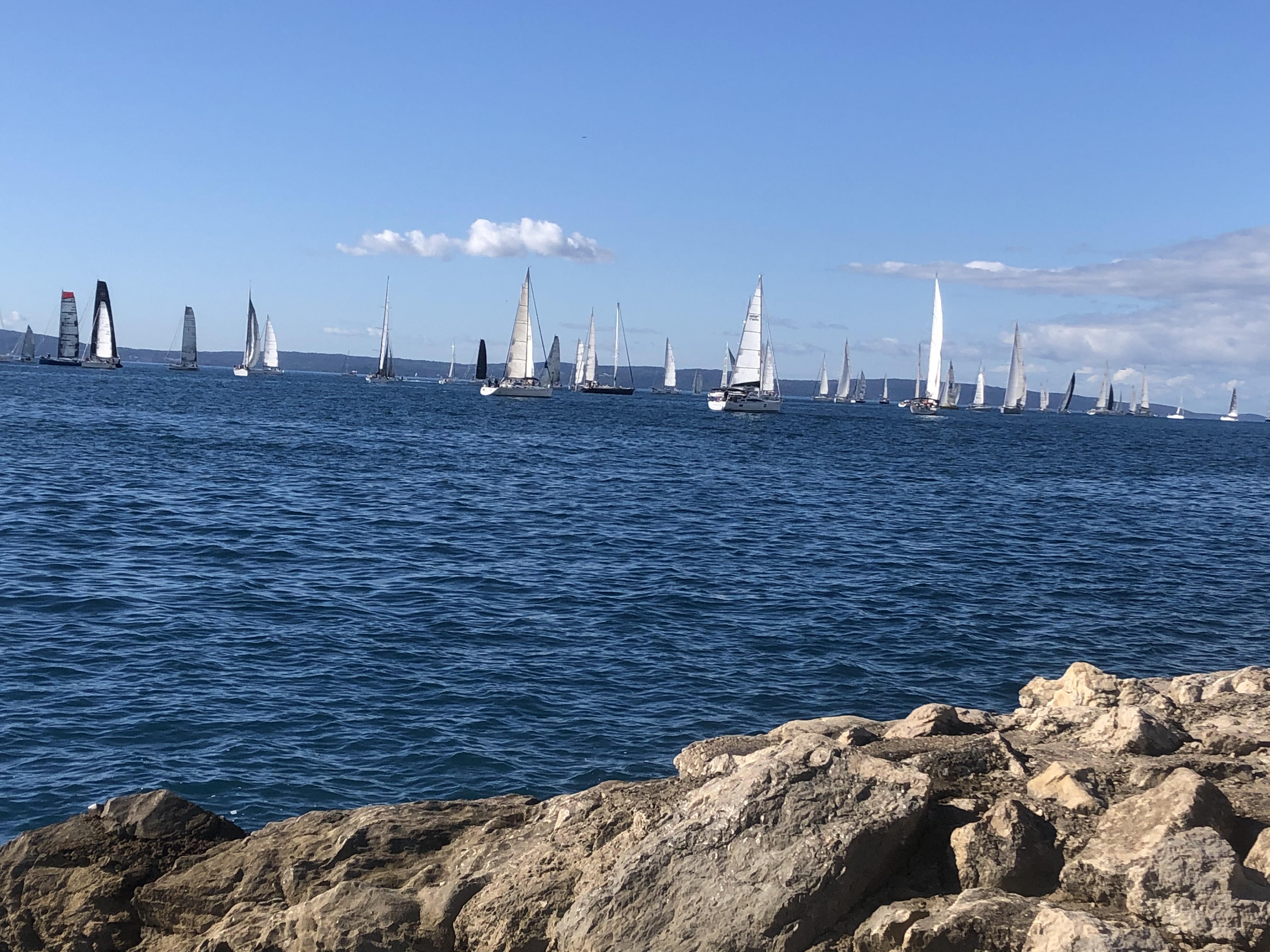 In front of Split, Croatia, the channel brims with sailing boats every second weekend in October all the way since 1945. Why? No one is giving away anything, no shoal of fish floating around waiting to be scooped up...just a tradition in a continuance of 76 years. Started right after the Great War, this regatta was the light at the end of the tunnel, reaching out to bring normality back to the lives of men. Nowadays known as Viška regatta (Viška = of Vis), back in the day was just the start of something new, an opportunity to combine pleasure that comes with sailing and friendship that crew brings by default. Connecting the WW II heroic island of Vis with Split was probably a kind of a social or even a political move to show the unity of people in those hard times. Nevertheless, during those 76 years, the regatta has grown into something the founders would be proud of. 
Each year, more than 150 boats sail out from Split on a 66 nautical miles long trip to Vis and back. This route, previously covered all in one day with night sailing, is stretched on three days since 1955, the second day reserved for relaxation and Lučka regatta, another tradition taking place in Vis harbor where teams race in the harbor premises around the buoy. What excites some contenders more than the sailing itself is those nights spent on the island as they get to loosen up the strings of the long tourist season behind and the long journey from Split. This detail is one of the main reasons why "Viška" is so popular and well-visited every year.
This year, like many other similar events across the globe, Viška regatta was affected with The-thing-that-will-not-be-named. Long considered doubtful for this year thanks to the popular measures and fear of becoming a problem instead of relaxation, it eventually took place in weekend from 16 to 18 October 2020, as 93 boats sailed out from ACI marina Split. At least they tried to as Eol seemed to have slept through the annunciation and the invading armada was stalled for a half-hour in front of Splitska Vrata. The only casualty of this regatta was the finish-line town. Once again because of The-thing-that-will-not-be-named, of course. Vis as a traditional finish was out of the race, and Stari Grad on Hvar took the honor of hosting the sailors. A shortened version of the famous regatta (Split - Stari Grad = 21 nm), but not in any case less attractive and spirited as the original one, could even be considered as a sailing counterpart to the famous Dakar Rally franchise. Chatting with sailors that participated, they witnessed regatta was well-organized, good-spirited, and followed the line of all recommendations The-thing-that-will-not-be-named experts proposed. Inside information speak of jolly people singing the old and new hits tasting local wine and food. The usual contact with the indigenous people was somewhat prevented by The-thing-that-will-not-be-named. Same atmosphere, different island. The way back as attractive as it can be. Sea, sun, sailing in perfect weather free from all the worries, breathing, and enjoying the vast open space. It doesn't matter who won, it's the participating that counts. And dining well. 
Summed up, Viška regatta 2020, even though it had no connection with Vis this year, was a complete success. Organizing an event of that scale in such conditions, in a world in turmoil, in spite of fear and terror is not an easy thing. This is why Viška regatta is a tradition of its 76 years. If it wasn't worth keeping in the first place it wouldn't last to this year that was probably the most challenging of all to keep it sailing. In the end, it simply comes to that. When you care enough for something, love what you do today, and respect all the work and dedication the founders put into such an event that is first and foremost a celebration of sailing and friendship, that is the true meaning of a true tradition.
 Dario Jerković