SunLife's Archi(ve)pelago Series 
"The land of the 1000 islands", as they coo it, Croatia is recognizable in the world for the scattered patches of land in the Adriatic Sea. Scattered and shaped by natural forces or by the hand of God as pearls on a turquoise surface, it doesn't matter. Every one of these islands is our nation's pride and, although we cannot even list all of them here, we can present you a short info/guide for the southern Croatian islands that find themselves between the two Dalmatian gems, Split and Dubrovnik. The best, and in most cases the only way to reach those, is by boat.  We will unravel them to you one by one in our Archi(ve)pelago series, handing you the best places to visit, to eat, to drink, to swim, to anchor, to relax.  
LASTOVO  

As remote as it can be in Croatia, almost you don't want to waste time getting to it, and it still has all you need. At least all you need while on holiday. Don't expect fireworks, festivals, or noise, as Lastovo is an island that lures in with its nature, people, and serenity. History is proof of the lure of a long time ago, and the influx of tourists does it nowadays, especially after Covid hit, made Lastovo a hit in one year.
Sailing to it, you will instantly get the point as you watch the Nature park Lastovo archipelago revealed before you. We recommend resting at konoba Mrčara, where you can grab something to eat and make your best move while on Lastovo. Call Krešimir from Visit Lastovo, who will give you the proper tour of Lastovo. That is the best way to cover Lastovo inland as you have our boat for the outer part. :)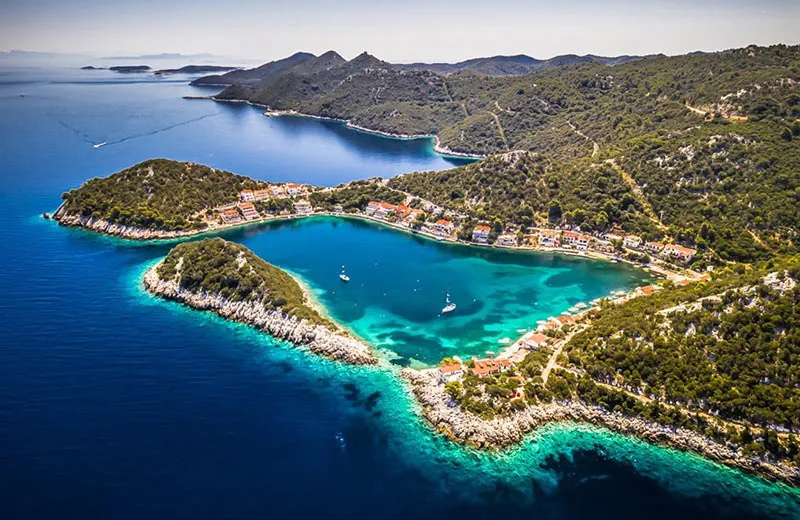 In the end, whatever you decide is the best. :) We would have you continue East along the tip of the island Prežba toward the Kručica bay and beach if you'd like a quiet refreshment surrounded only by pine trees and rocks. The other is the "next-door" bay Korita, almost a copy-paste version of Kručica. Although these two have perks, they are considered an overture to Zaklopatica. The bay looks like a pirate's den thanks to the islet Zaklopatica on which the bird Kaukal nests, closing the port and making it almost invisible. Don't get scared if you hear a strange sound like this. It is only Kaukal saying hello. Once inside, you will find plenty of options for anchoring, taking a buoy, mooring right next to konoba Augusta Insula, or visiting others along that line like Triton, Santor, or Aragosta. No better place to spend the night and enjoy the food, the sounds, and the view. Adventurous types should check out the unique opportunity for diving lessons and even dive under one of the most attractive European locations, Bijelac. Another option, if you are up for it, is renting a bike, a car, or going on foot to check the panoramic view of Zaklopatica. 
You can also reach Lastovo that way, or wait to get to it by boat. Although, that would be tough as Lastovo is not situated on the sea but inland as protection before the pirate raids. First, you should reach Mihajla or Lučica bay to start climbing to Lastovo. In Lučica, you can enjoy the view and the food konoba Lučica can provide. Beware of the wind if it comes to Bura, NE wind that can cause problems in this location. Climbing up to Lastovo, you can choose between the asphalt road and taking a taxi, or just walking a forest path of 400m. You will reach an arena-like space where Lastovo nested above a fertile field. The first thing that catches the eye is the old stone houses, the rooves, and the beautiful unique Chimneys of Lastovo. The story, the enthusiasm and persistency of people building those can only match the number of churches they built. At least a dozen of them in Lastovo town and more than 30 on the island itself could make a tour for the ones into the culture. Eager to check Lastovo's inland and the surrounding islands from above, climb to the Kašćel Lastovo, a former fortress now turned into a meteorological station. After all that exertion, food and drink naturally come to mind, so choose from the town's restaurants like Fumari, Bačvara, or Amfora, or you can again take a bike and head on to the OPG Podanje. Cycling through the Lastovo's fields brings you back to the old days and "peka" to the old ways, smells, and tastes. Ask Krešimir about visiting Rača cave.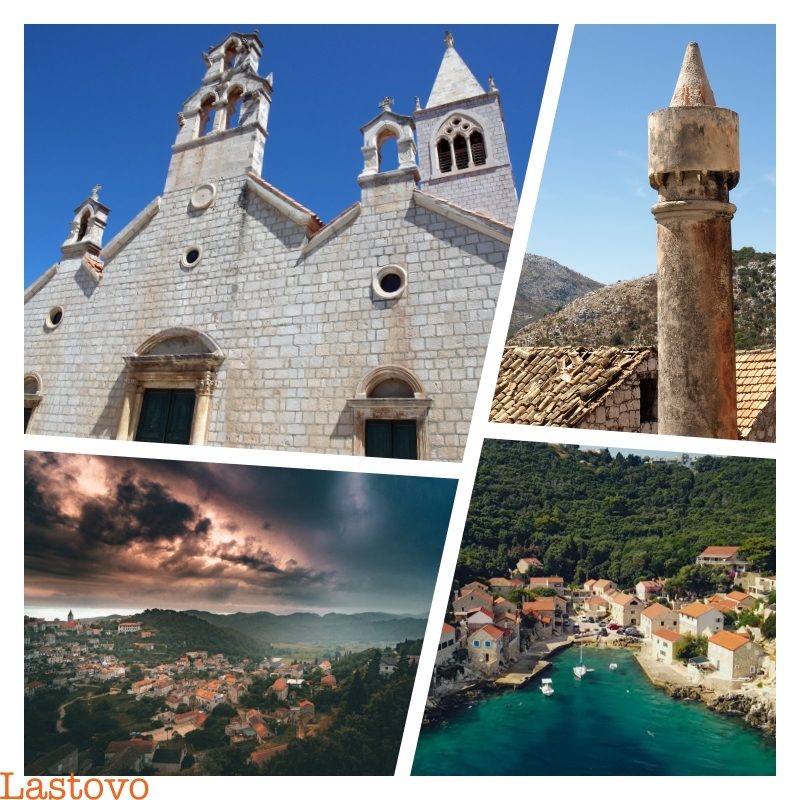 Getting rid of the legs and back on sails in terms of mobility, you can leave Lastovo to check Saplun, the only sandy beach on Lastovo. Actually, on the little islet of Saplun, East of Lastovo. Not exactly on your way around Lastovo, but why not?! :) Catching back the course around, sail toward Skrivena Luka (Hidden Harbor). You'll get a grip of the naming process when you see the bay, or you don't. :) Only, make sure you do or you will miss a beautiful place to safely anchor or take a berth in front of Porto Rosso, and you don't want to miss that! Nearby is the camp "Skriveni"  with this amazing map of the island. 
From here, you can hike or bike up the hill for 5km to the heliport with an amazing view of the island, as well as the surrounding area. Sunsets here are magical, and after it sets, the star-gazing is something you surely haven't seen for a long time. In that case, maybe renting a car would be a good idea. :) You can reach it along the opposite slope, coming from Ubli as well. After Skrivena Luka, follow the coast, wild as it drops down from the steep hill and there are no noteworthy beaches along it. Passing by the Veljeg mora cape (this former military location should have been covered by Krešimir), and Cuf cape further up, you will sail in the bay of Ubli, the ferry port of Lastovo.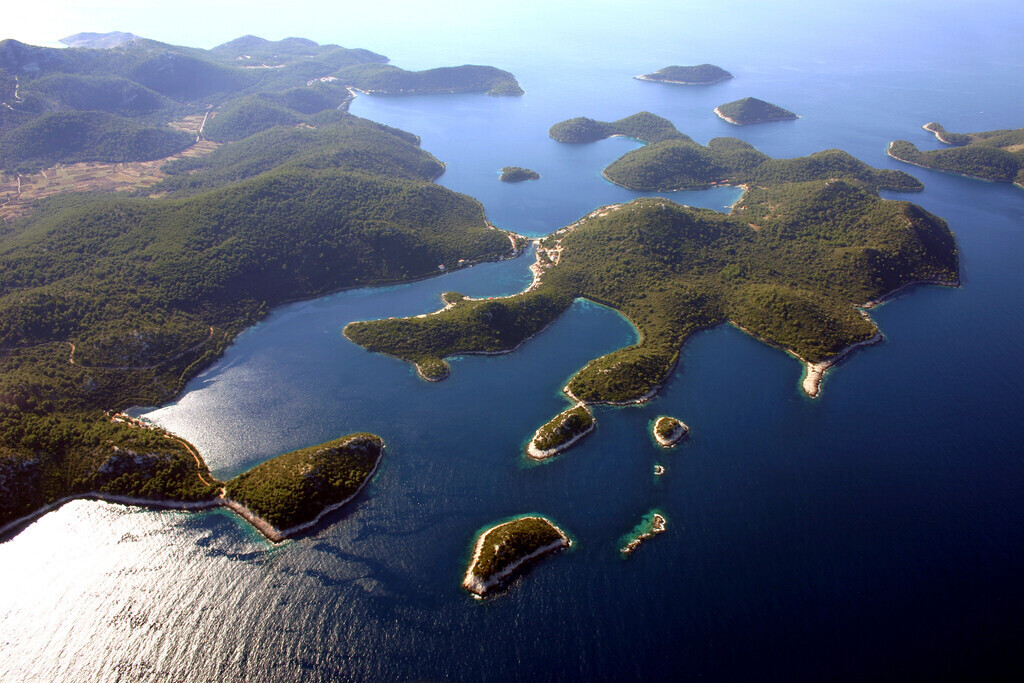 You can either anchor in the popular Jurjeva Luka, or catch a spot in marina Malo Lago in Pasadur, the connector of Lastovo and the neighboring island of Prežba. A swim in Jurjeva Luka, a walk to Ubli along the sea, and grabbing a bite in konoba Pece, taking it slowly, Lastovo way. If you seek adrenalin and want to check more of Lastovo's underwater wonders, check the contact of the diving center in Pasadur and just enjoy! :) You can't get to Split that way, so come back up and sail to us when you get the chance. :)
Check the island of Sušac with amazing photos!
 Dario Jerković