Ivan Meštrović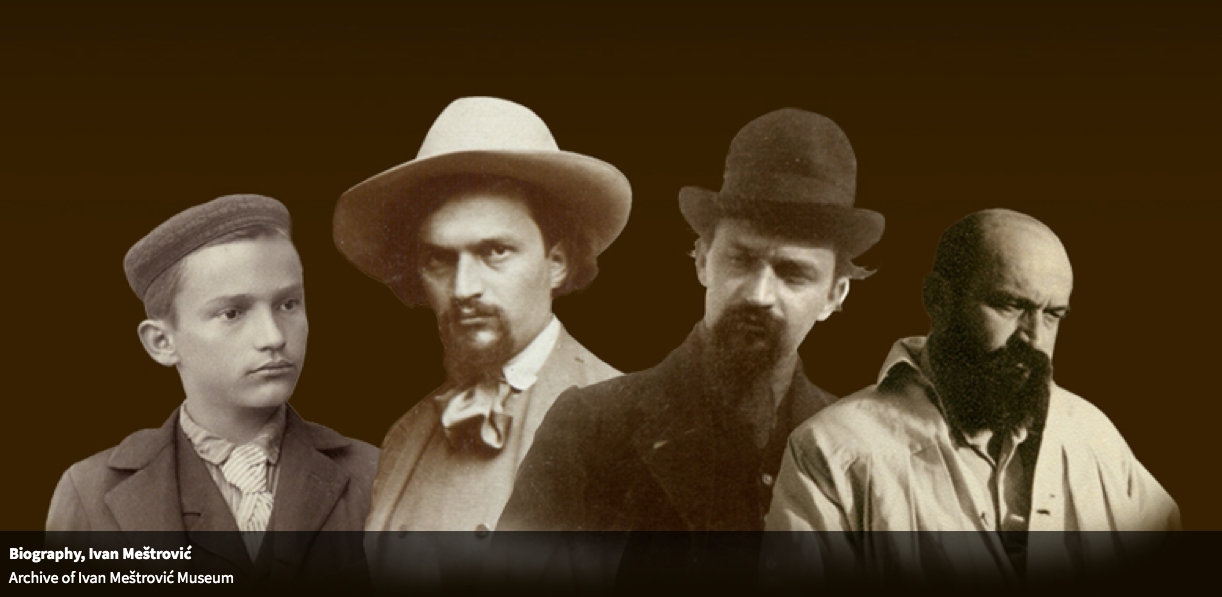 There are a lot of ways to express someone's size and strength. In English, some would say that an individual is "as strong as an ox" or "as hard as nails." Croatian people would say that a man is so strong and hard as if he was torn off a rock, nature being the sculptor.  There are a lot of rocks in Croatia, especially in the hinterland. Each stone that comes off it is special and different in its own way, but some stand out. One of those stones turned up huge in its 153 cm height. Doesn't look like much? Don't judge a stone by its volume, one can say. This stone emerged from a rock in Otavice, Croatia. During his life, he has been given lots of names and titles. Genius, virtuoso, Homer of Stone even. Robert Knjaz, the funniest Croatian documentarist, defined him as "The Messi of sculptors" or Mešši, as he said. :) Ivan Meštrović was his name, and he was one of the greatest sculptors of the 20th century. But, first of all, he was a Croat and patriot. 
Actually born in Vrpolje in 1883, Meštrović grew up in a family home in Otavice, next to Drniš, a small town that launched him to the stars. The story goes he gave signs of his talent already at an early age of eight, carving shapes in wood and stone, much like his father. With time, the reputation of his work grew, and the people of his community saw the enormous potential within him. The most educated and the wealthiest members of the community that played a major part in shaping Meštrović's early years formed a Society to help breed young Meštrović. This society used its influence, connections, and experience to guide the young artist and make sure he receives a proper education. This act of altruism of his own people will never be forgotten in the eyes of Meštrović and, without hesitation, one can say that this gift transformed a shepherd with golden hands into a world-famous sculptor.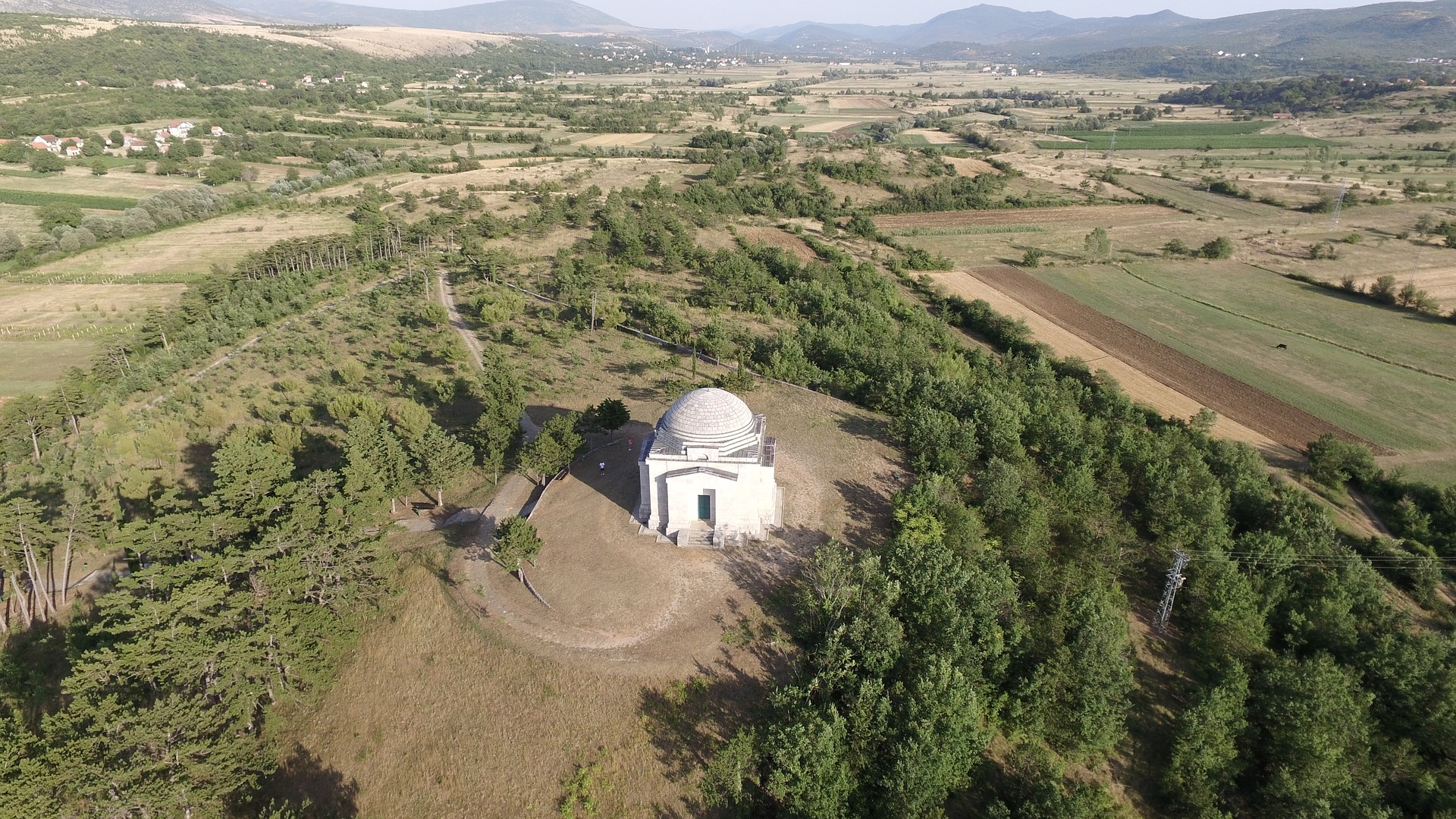 After a brief apprenticeship in Split, where he caught the basics in drawing and stonework, he went to Vienna, the capital of the Austrian-Hungarian Empire at the time, to study at the Academy of Fine Arts where he completed three years of study of sculpture and two of architecture.  Year by year, his reputation grew and he became a standard exhibitor in several galleries over Europe. Commissions came in in plenty, and Meštrović started capitalizing his talent. He never forgot who he owes it to. In 1913 he built a house for his parents in Otavice and continued to help those who helped him become what he was. He built a new public school and an antimalaria dispensary as a gift to his people. Throughout the years many followed, but the greatest gift to the people of Otavice and Drniš was to be the Church of the Holy Redeemer. Built on the hill near Otavice, this church made of local stone stands as a true monument to catholicism, architecture, people of Drniš area, and the Meštrović family, as it was intended to serve as well as their "mausoleum". 
These deeds of gift from Meštrović to Croatian people continued more and more on a large scale. He owned houses in Split and Zagreb which he also gave to the government in 1952 with the main condition to transform them into galleries of his works. Zagreb house was the one he and his family lived in the longest and it now houses Meštrović Atelier. The mansion in Split, built on a slope of Marjan Hill (now an elite neighborhood) in a grandiose fashion represents a true sculptor's spirit as Meštrović had designed it completely and finished it in the late 1930s. With the location of Crikvine - Kaštilac beneath, the mansion makes a major complex of Ivan Meštrović's Gallery. One cannot help himself but assume that everything Meštrović did he did with purpose, having a plan for the long run. Designing his mansion in a particular way, transforming Crikvine, deeds of gift in Otavice, Zagreb, and many other similar in Croatia and beyond witness to his altruism and his forethought towards the future of his name and work.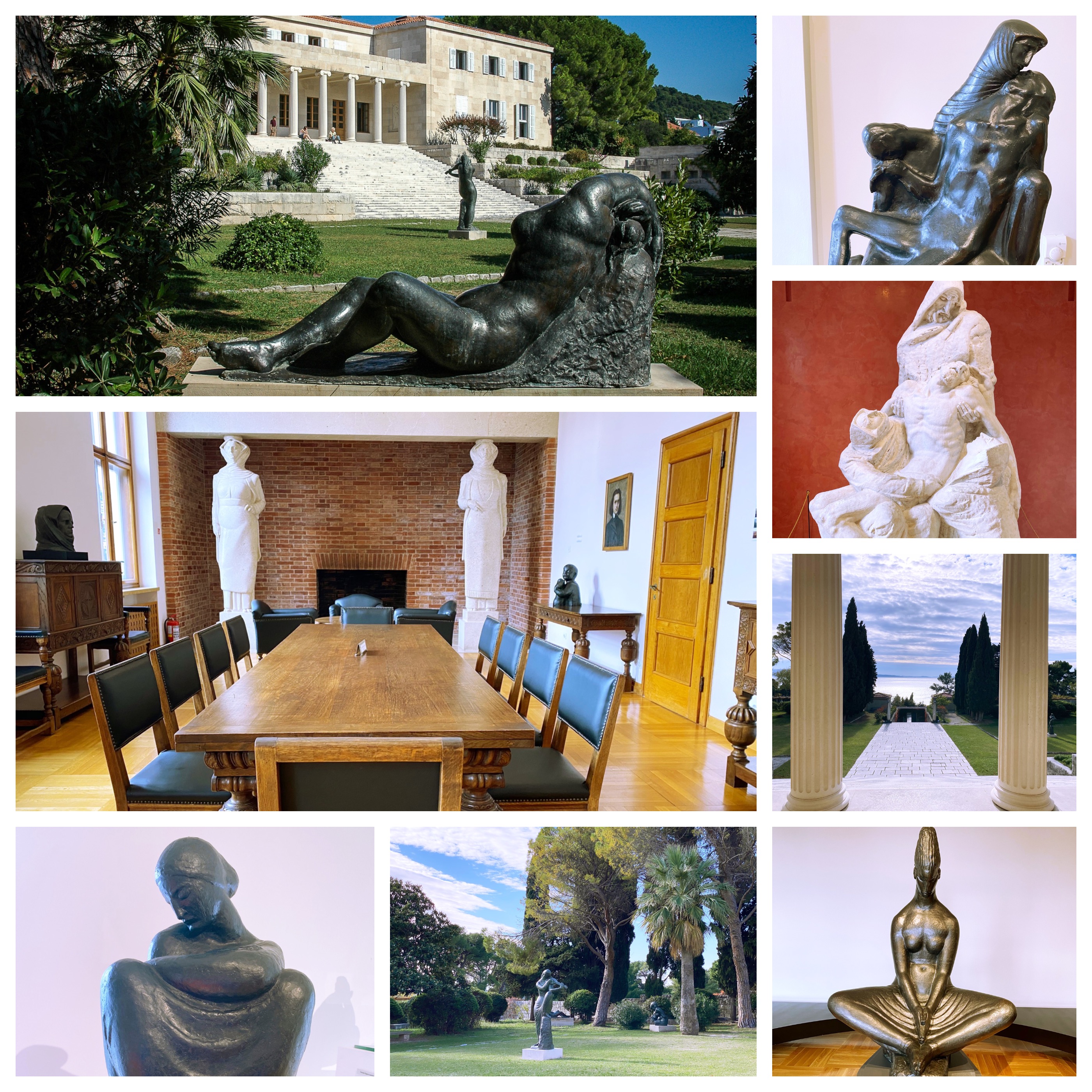 One of the biggest Croatian benefactors in history, Meštrović did not only donated his sculptures, paintings, drawings, monuments, and real-estate to the Croatian people. He gave them enormous publicity in the world as he served as an informal ambassador of Croatia's history and culture, as well as being informally involved in the politics of Croatia and Yugoslavia at the time. The biggest jaw-dropping fact revealing itself by looking in Meštrović's forethought about his work and his contributions to Croatia is the one he admitted himself as he said that his wish is that most of his work is to be placed in his mansion in Split as he is convinced that the foreigners will once come there just to see his work.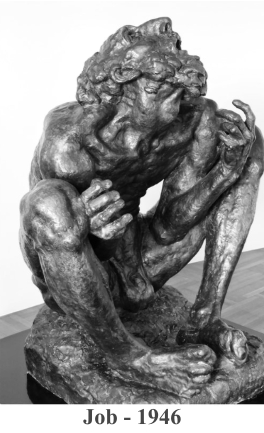 Genius sculptor, politician, ambassador, benefactor, and tourism expert in one, Meštrović was first and foremost a patriot. Because of that, he suffered a lot. Living in turbulent times of several revolutions, two World Wars, being a Croat, and experiencing the turmoil of several empires, regimes and joint-states would be difficult enough without being a famous sculptor and a well-known figure in circles of power in all leading countries in Europe. His exhibitions in the United Kingdom, France, Italy, Germany, and others in the biggest museums and galleries of London, Paris, Rome, Venice, Munchen opened the doors, wallets, and ears of many influentials. He used that to express his opinion on the politics of the Austrian - Hungarian Empire, Italy's pretensions on Dalmatia, Croatia's fascist government, and Serbia's rule in the join state. These opinions brought him a great deal of trouble and he spent many years of his life in exile from Croatia, even escaping near death by Croatian fascists' hands in 1941. Nevertheless, despite all the wrongs suffered, Meštrović said that "no matter how far the frail tree of his life had been blown by life's tempests, it drew nourishment from the barren, stony soil from which it had sprung." Apart from Zagreb and Split where he lived shortly with his family, during his voluntary and involuntary exile, he lived in Paris, Rome, London, Geneva, but his life and connection with the United States is to be emphasized the most.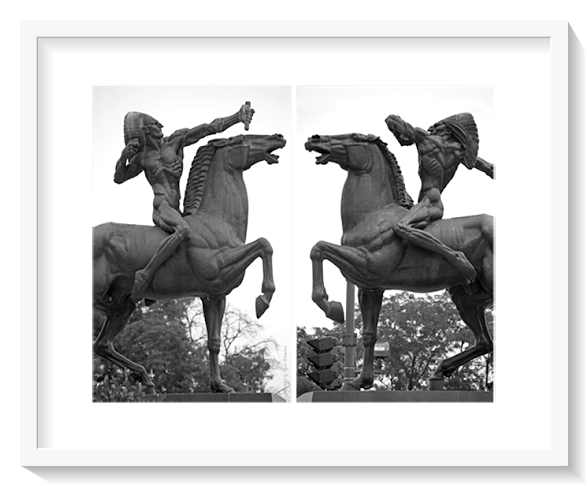 1924 was the year Meštrović first came to America. At the Brooklyn Museum, he held an exhibition at the peak of his fame and heap that followed him from Europe. His works were a big success and he sold many statues, along with getting commissions for future work. The most prominent of all was the commission for two equestrian Indians for Grant Park on Chicago's Michigan Avenue. Made in Zagreb and assembled in Chicago, these statues of Bowman and Spearman depicting Native Americans are one of the most well-known works of Meštrović.  After one more brief visit, 20 years will pass until Meštrović returns to the States. Keeping connected with the artists and friends in America, he was offered to become a professor at the School of Arts at Syracuse University in 1947. In the same year, the American Academy of Science and Arts held his exhibition at the Metropolitan Museum in New York as the first living artist for whom the Museum organized an exhibition. Syracuse, NY remained his permanent residence until 1955 when he moved to Indiana, to the Notre Dame University where he had much better facilities and conditions to work in. Was given US citizenship in 1954 and was admitted into the American Academy of Science and Arts. He briefly visited Croatia in 1959, checking on his family and friends, estates he donated to the government, and making plans for future projects.  More on his life in America you can read in an article written by his son Mate (Matthew) Meštrović. Unfortunately, he never returned to his homeland as he died in 1962 in South Bend. His ashes were later that month brought in Croatia and placed in the crypt with his family, beneath his Church of Holy Redeemer in Otavice.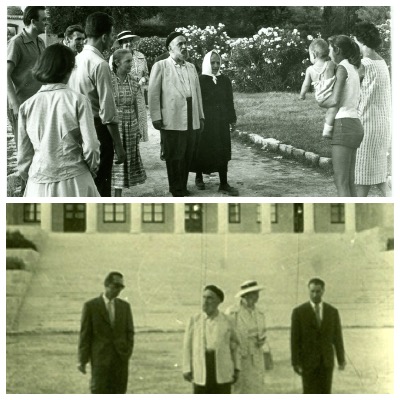 INTERESTING FACTS
came from a family of "Hajduks", bandits that defended the people against the Turks
the first crucifix carved in stone at the age of eight
had no formal education before the university
only 153 cm high
often expressed his ambition as he knew he would be famous
proclaimed as "the most religious sculptor of the 20th century"
despite his religiousness, he married twice, had children outside of marriage, ending up with his wife and his ex living 20m from one another
was a phone call away from execution in 1941
was given US citizenship from President Eisenhower himself at the ceremony in the White House
extremely prolific; produced more than 3000 sculptures in his lifetime, one every 10 days in 79 years he lived
MOST INTERESTING WORKS
1903 - The Last Kiss
1905 - Well of Life, Zagreb
1920 - Canadian Phalanx, Ottawa
1922 - Our Lady of Angels, Cavtat
1924 - Marko Marulić
1926 - J.J.Strossmayer, Zagreb
1928 - Bowman and Spearman, Chicago
1931 - Gregory of Nin, Split
1932 - History of Croats, Zagreb
1938 - Home of Croatian Artists, Zagreb
1938 - Monument to the Unknown Hero, Belgrade
1946 - Job, Syracuse
1952 - Nikola Tesla, Zagreb
1952 - Mausoleum of Njegoš, Lovćen, Montenegro
1954 - Man and Freedom, Mayo clinic, Rochester
1958 - Pieta Romana, South Bend
The best way to understand the work of any kind is first to understand the author. Every one of them puts little bits and pieces of their soul, their essence inside. Meštrović is a glaring example of that. From running across the hills of Dalmatian hinterland to surging through Europe with his masterpieces and conquering America, Meštrović didn't change his approach to art and his works. The foundation of those, starting from the mere inspiration, theme, style, and material, was always his homeland and his people. He was aware he owes it all to them, in one way or another, and his art reflected that gratitude. Infatuated in Croatian history, heroes of old and present, the role of a mother in the society, the sufferings of the poor, he depicted all of those in his statues and monuments, depending on the phase of his creation and state of mind at the time. His contemporaries, and his children, testified that he was not a wordy type. He rather communicated with his eyes and through his work.  No surprise from an artist, as no words can describe the feelings he incorporated with his chisel into Job after his sufferings during a dark time in Europe, or the pain and desperation after the loss of his two children depicted in Pieta Romana in the last years of his life. The only way to truly understand Meštrović is the way he himself prepared for you, for us. Follow his steps.  From Otavice, this small village in the middle of nowhere that put him on the world's map of the great (him returning the favor), where he put his mark in the hearts and the landscape, over the Dalmatian historical towns, Zagreb, neighboring countries he was so fond of, across Europe, and to America that gave so much and yet took so much from him. Knowing that the only way to remember him and his works is to be able to see and experience them, he made his vision real by giving a fortune to his people in Croatia, Split in particular. The Ivan Meštrović Gallery in Split is the place you want to check when you pay us a visit. 
See you soon! :)
 Dario Jerković