Happy 110th Birthday Hajduk!  
We all had some "special" moments during our lives when alcohol was involved. Everyone can remember at least one or two, but the sweetest ones are foggy, and they better stay as such. Embarrassments have always been an integral part of intoxication processes, as the inhibitions and coherent thoughts tend to evaporate with the fumes. Nevertheless, sometimes the process ends up another way resulting in brainstorm and ideas you could never think of before.  You probably didn't know that Pythagoras, one of the most famous mathematicians of all time was often "joyful" while contemplating on his theorems? Steve Jobs confessed he had been in the same mood a lot when working on what will change the world forever, as well as Francis Crick, Nobel winner who unraveled the DNA double-helix structure while unraveling himself. Wouldn't need hard thinking to guess that Frankenstein and his pet were created during one of Mary Shelley's parties, but inventing Quidditch in a pub isn't something J.K.Rowling likes to emphasize when mingling with her youngest fans.  Having all that in mind, one would expect something interesting to emerge from a hang-out of good friends over a couple of beers.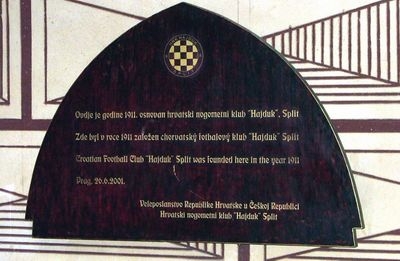 110 years ago, in a small brewery in Prague, a group of students from Dalmatia had a couple of Czech finest and a breakthrough followed. Infatuated with the game of football, they decided to found a club in their home town of Split. And the legend was born. Naming it after the brave men, patriots that fought off the invaders mainly in the 18th century, they wanted to form a club that will live up to its name. It wasn't just the bravery, nobility, boldness, and honor of these men that were regarded as the perfect traits of a newly founded club, but the fact that Hajduks emerged from the people they were protecting. Hajduk was the name, a name that resonates, pulsates, puts fear in the opposition. Nevertheless, we cannot resist the feeling that the boose on that founding night helped put the club's destiny on shaky legs. 110 years.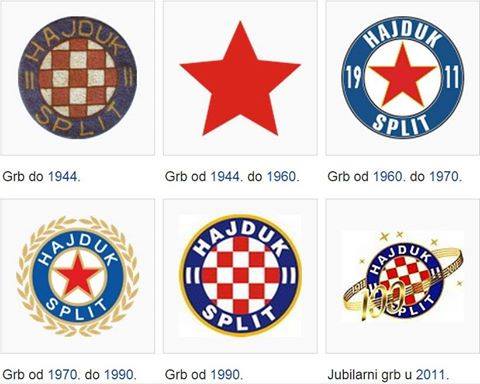 A lot happened in between. From a small club in a poor region, Hajduk evolved into a symbol of resistance and hope, especially during World War II when it refused to bend to the fascist regime and played the famous match in Bari in 1944 against the selection of the British Army...40 000 people watching a game of football in the middle of the biggest war in the history of mankind. Afterward, Hajduk also passed on an offer from Josip Broz Tito to become an army club and move to Belgrade, something that would secure the club's finance and strengthen it on every level. It was never about power, but dignity.
Despite all of that, Hajduk managed on its own to win 18 Championships, 15 Cups and took part in major Euro Cups, the biggest success being the Champions League quarterfinal against Ajax in season 1994/1995. There were legendary periods, decades in which Hajduk dominated in former Yugoslavia and Croatia, but those were always mixed with the bad ones, normal oscillations in sport.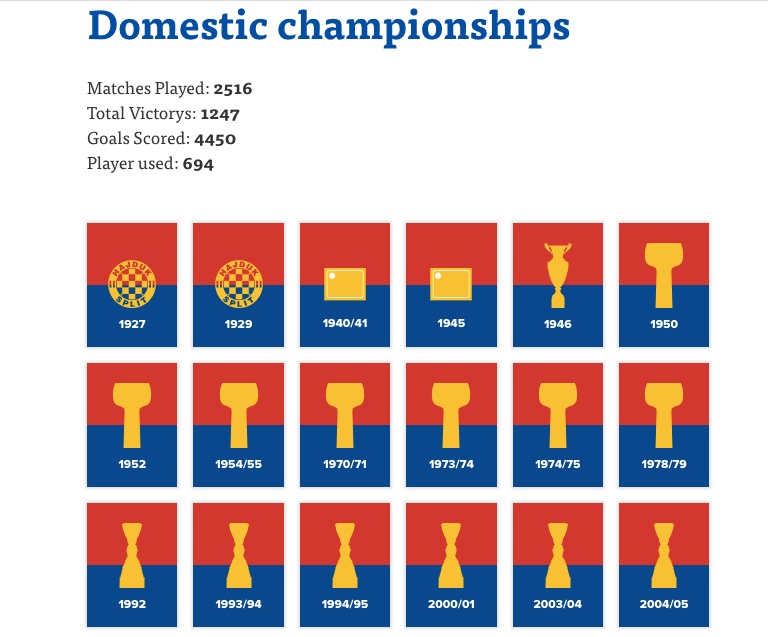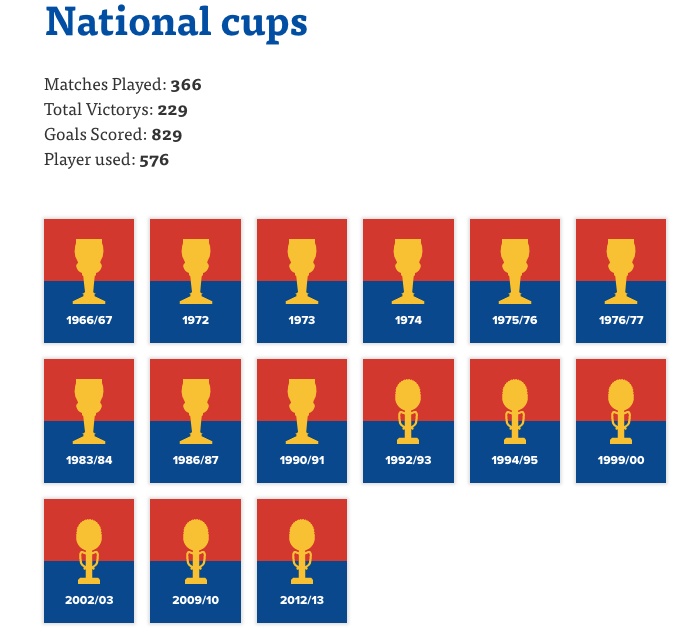 The only constant in 110 years were the supporters, and supporters are the heart of every club.  In those 110 years, this bond will be proved over and over again, as Hajduk cannot exist without the supporters, but neither can supporters live without their favorite, the only club. It smells like a cliche, but how else would you describe the bond that cannot be described? This bond can be seen everywhere around Split. In the eyes of the supporters going to the stadium, in their chants, actually, on every step you make in Split. Club of the people and for the people, the essence of Hajduk Split from the beginning until the end. And the end will never happen in Hajduk's case as Torcida, the official supporter group and the oldest one in Europe, likes to state that "Hajduk lives forever".
This is one of the numerous slogans of Hajduk Split usually depicted on graffiti in Split There are so many of them on every corner of the city, on the major crossroads, viaducts, in the port, on the walls, private houses...you name it. Mainly, they depict the club's emblem, foundation year, Torcida's name, and so on, but the slogans, messages for the favorite club, songs sung in its honor...these are the perfect example of the bond and love from supporters. 
Oliver Dragojević, Dalmatian legend, sung about Hajduk saying: "Without the money and respect, the child of the people was born, out of love and out of spite!" Hajduk is Split, and Split is Hajduk. Those two can never be separated, being proven multiple times over the years. "When they lose, when they beat, always loyal to Hajduk Split" says another iconic slogan, fitting for the last decade when Hajduk struggles on the field and without trophies. Sometimes, trophies come second, as Hajduk was on the verge of collapse, bankruptcy, saved only by the fans. The slogan emphasis is on the love, again a cliched kind of love without expectation, which sometimes turn into that bittersweet form when you are a Hajduk Split fan. "Emotions are f.... up" when Hajduk is in the picture, said one of the fans, and couldn't be any more spot on. You cannot stay cool, save the clear head during the games, moments of injustice, lack of effort from the players, repeated losses...but you come back every time. White jersey on, a shawl around the shoulders, heart pumping in expectation of another game...no matter what, you will be there and tremble till the end all 90 minutes.
"Years go by, but the love remains", yet another slogan that touches you right where it should. It won't go away, it doesn't fade, it only gets worse.  "I, lunatic, take you, HNK Hajduk Split, to be my wife (or husband), to have and to hold from this day forward, for better, for worse, for richer, for poorer, in sickness and in health, to love and to cherish, till death do us part."  Everyone knows these lines. Probably one of the most widespread wedding-wows in the world, they represent the essence of any love creating a bond between two sides. 110 years ago, one such love emerged. There wasn't a specific man or a woman. It was a love from a collective to a legend in the making.  We, supporters, say these words without knowing at the time we are born and live them till the day we die. Not Hajduk, we.  One of the most popular Hajduk songs starts with the verse: "Father and grandfather were Torcida, white is the color of my son as well". Generation upon generation, male or female, take this color, these songs, these mottos, these traits, these emotions (good and bad), the wins and losses with themselves and never regret them. It is hard, it has been hard over these 110 years, but we are still here, just as Hajduk is and will be. Just Because of one love, THE LOVE.
'Cause of one love,  with wich we are born,
that does not end, becomes your life,
cannot live without her.
ℌ
I love you, Hajduk, since I was born,
after a win, or when you struggle,
don't know of another way.
ℌ
They say I'm crazy, spending my life in vain,
my throat, my nerves, everything,
and the sleepless nights, cannot live without you.
ℌ
My dreams and all that I wish,
tied together with you,
so go on and play, become a champion,
make a wish come true.
ℌ
What I ask of you, are not just wins,
only the heart, well known,
Hajduk heart.
ℌ
HAPPY BIRTHDAY BIG FELLOW, AND BEST OF LUCK!
 Dario Jerković