ISTRIA
ACI Marina Umag
Port of entry into Croatia from Central Europe, this marina is open all year round. Having 475 berths with water and power supply, along with 40 berths on land, it has everything one needs and more, as it serves as a great starting point while discovering all that Istria has to offer.
45°26'25.2"N 13°30'49.4"E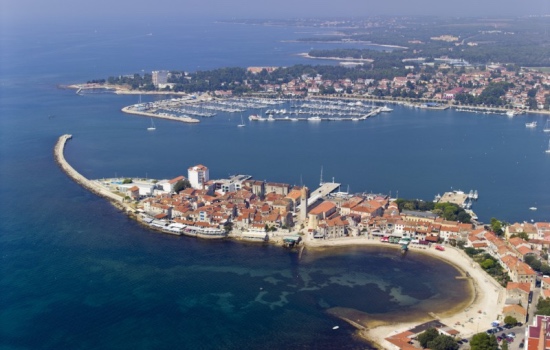 Marina Nautica
Located in the protected bay of Novigrad harbor, marina Nautica is well-protected from all winds and sea. The capacity of the marina are about 100 sea berths, 50 dry berths plus extra berths available for bigger boats at the outside pier. Facilities include a reception office, restaurants, hotel, self-service supermarket, telephone, showers and toilets, water and electricity hook-ups and fuel. Services include small repairs, crane (10 t), slipway for small craft and lift (39 t). Opened seasonally, from March to December.
45°19'10.8"N 13°33'55.3"E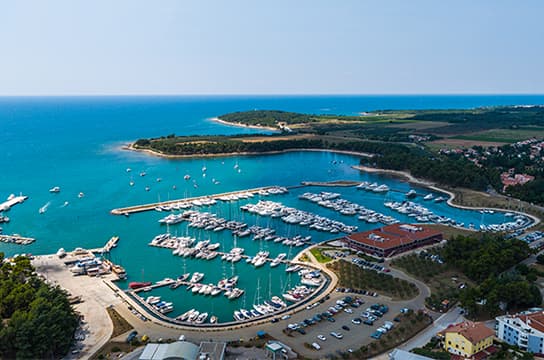 Marina Červar Porat
Located in the Červar -Porat holiday resort, 6 km north of Poreč. The marina has 259 berths for boats from 3 to 25 m with a maximal draught of 5 m. All berths are provided with electricity and water on the pontoon. The marina has its repair shop and a 15t crane. A reception desk, exchange office, two large toilet facilities with hot water, restaurant, hotel, travel agency, various shops and supermarkets are there for everything you need.
45°16'30.1"N 13°35'57.0"E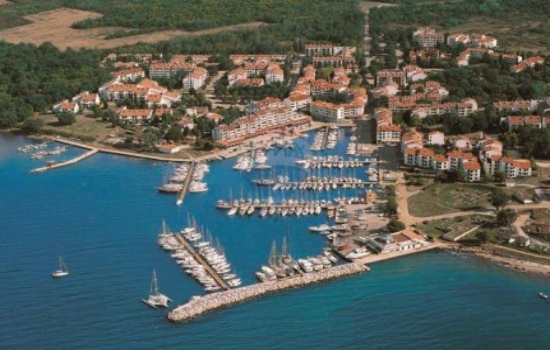 Marina Poreč
Integrated with the city port of Poreč, this urban marina with its 120 berths and other facilities has everything to provide its guests with all the necessary technical and professional assistance, along with the boat petrol station and a 5-ton crane. Beauties of Poreč, rich in cultural heritage such as the famous Euphrasius Basilica, are just a few steps away from the marina as it practically leans on the old town.
45°13'29.8"N 13°35'44.8"E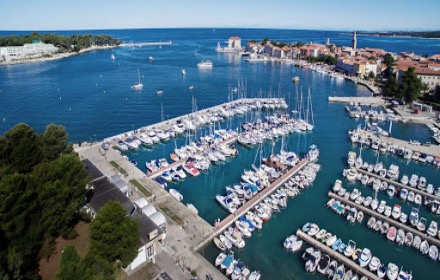 Marina Parentium
Part of the Zelena Laguna holiday resort, only 6km away from town of Poreč, Marina Parentium has 184 berths for boats from 3 to 20 m. All berths with electricity and water, repair shop providing the services of mechanics, electricians, and others make this marina a great option for your boat when in the neighborhood.
45°12'15.2"N 13°35'21.3"E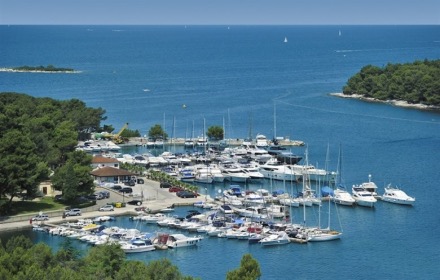 Marina Funtana
Further south from Poreč lies Marina Funtana in the namesake village. Close to the major touristic centers, National Park Brijuni, and other picturesque small towns of Istria, Marina Funtana should be on top of your list while touring. Because of numerous shoals, cliffs and reefs yachtsmen are recommended to sail very carefully through the bay.  180 berths wet and 40 dry berths, water, and electricity await you as well as a reception with AC and showers, cafe-bistro, parking, crane, nautical equipment trade and other facilities.
45°10'36.7"N 13°35'44.9"E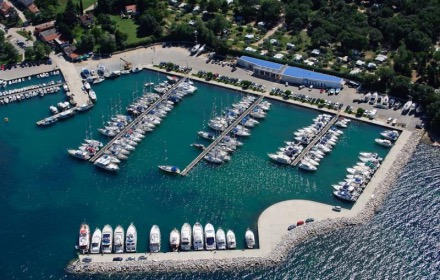 Marina Vrsar
Built on the location of the already existing port and naturally protected by the island of Sv. Juraj, Marina Vrsar is a good choice when staying on the west coast of Istria. Equipped with the latest standards of service and environmental protection, with a berthing capacity of 200 boats and depths from 4 to 14 meters, it can accommodate boats up to 50m length. The yachtsmen can enjoy in a top-class restaurant, cafe, air-conditioned toilets, and use the service of 30 t crane, nautical equipment shop, diver and WLAN internet.
45°09'02.2"N 13°35'57.7"E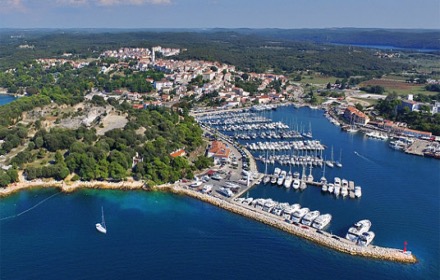 Marina Valalta
If you are a true nature lover, you ought to visit Marina Valalta as it is the only harbor for naturists on the Adriatic. Located on the northern side of Rovinj, at the entrance to Lim bay, it offers secure mooring for the boats, servicing facilities and lots of nature to enjoy in. The depth in the marina ranges from 1.5 to 6m leaving it suitable for larger boats as well. Opened seasonally, during the summer.
45°07'35.2"N 13°37'22.7"E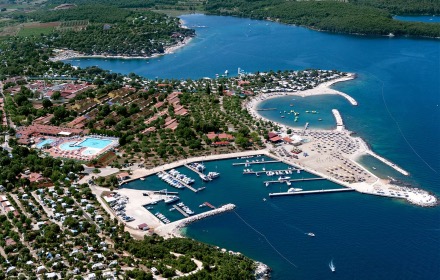 ACI marina Rovinj
As if Rovinj needed any more beauties along with itself, new ACI Marina Rovinj emerges from its bosom. Ideally suited to space and environment, its minimalist architecture is utilizing state-of-the-art technology and infrastructure solutions, rich and functional facilities are ready to meet the needs of the most demanding boaters. 196 berths can accommodate 35 m long vessels on the annual berth, and even up to 100 m yachts for daily purposes, thus guaranteeing a safe harbor for large mega yachts. Leaving your boat in these safe hands and exploring Rovinj will be the best choice you will make if you drop by.
45°04'32.1"N 13°38'09.7"E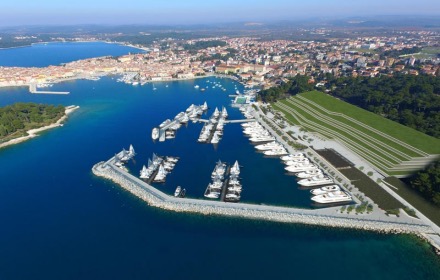 ACI marina Pula
When in Pula do as the Roman did. Tie up your boat in ACI Pula, in the middle of the natural bay, right in front of the old Arena and the other remains of the Roman town of Pola.   The marina has 192 berths capable to take care of mega yachts up to 40 meters in length. All facilities are at your disposal, just as all the beauties Pula has to offer, so Carpe your Diem in Pula! :)
44°52'21.4"N 13°50'45.2"E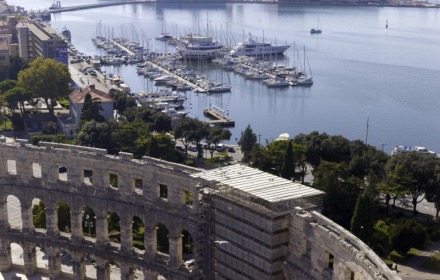 Marina Veruda
Only a few kilometers away from Pula, built on the previous Roman trade port, Marina Veruda s ideal for your yacht thanks to the attractive location and the quality service it provides. Sheltered from winds and waves, the marina provides a full safety needed to calm your anxiety and make a start to your charter holiday go smooth. With 19 piers and 630 berths, Marina Veruda is one of the largest marinas in Croatia, well connected to the world, organized and up to the modern standards.
44°50'45.7"N 13°51'00.1"E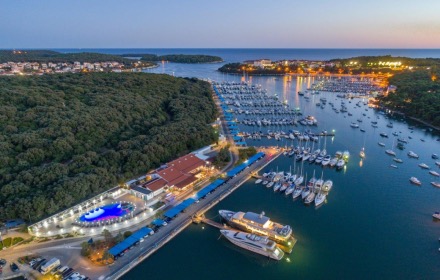 ACI marina Pomer
Everything in Istria is connected with the Romans, so why not Pomer too. :) On the southern tip of the Istrian peninsula, in Medulin Bay, Romans built their villas, but nowadays a modern marina emerges next to the fishing village. The nature will captivate you so don't hesitate tying your boat on one of the 294 sea and 30 land berths or using the facilities available in the marina.
44°49'17.4"N 13°54'06.4"E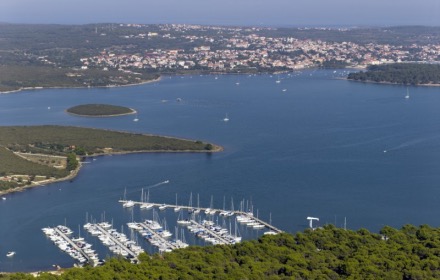 ACI marina Opatija
Located in the town of Ičići rather than in Opatija itself, ACI marina Opatija serves as a haven for boats as it is secure from Bura wind. It continues the tradition of Opatija area being the tourist magnet as it was a pioneer of Croatian tourism dating from the 19th century. 283 boat berths, 35 dry berths and berths for mega yachts up to 40m in length are more than enough to lure you in to start exploring Opatija. Inside the marina, you can find the reception with an exchange office, restaurant, café bar, nautical equipment store, clothing store and fishing gear store, showers and toilets, laundry, repair shop, parking.
45°18'50.0"N 14°17'16.8"E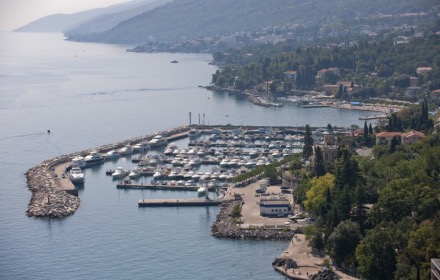 Marina Admiral
Right next to hotel Admiral, in Opatija itself, marina Admiral with 160 berths and 40 dry berths with water and power supply is right what you need. Ideal for berthing smaller boats, categorized with four anchors – the equivalent of five stars hotel, it won't serve you only as a stop to reach Opatija as you can use all facilities inside the hotel as well. Marina is suitable for disabled people. The gas station and Harbour Master's Office are only 0.5 Nm from the marina.
45°19'39.4"N 14°18'00.5"E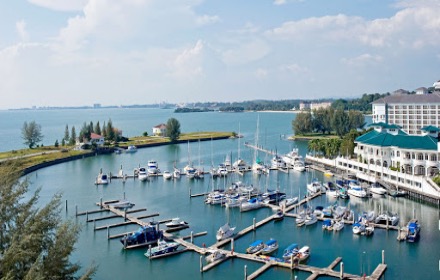 Marina Punat
Situated on the island of Krk, only 20min away from an international airport, close to neighboring countries, with breathtaking beauties all around and safe in a protected bay, Marina Punat had every reason to succeed. And it did.  In every meaning a modern marina, marina Punat is a leader in innovation and planning, as well as in taking care of its customers. 800 sea berths and 500 on dry docks make it what it is, marina not only orientated on charter but boating all year round. Facilities such as a hotel with spa sections "for the rainy days" when you cannot sail out, or service section with all possible equipment to repair your boat are something every marina needs to have. Come and see it yourself!
45°01'45.0"N 14°37'43.5"E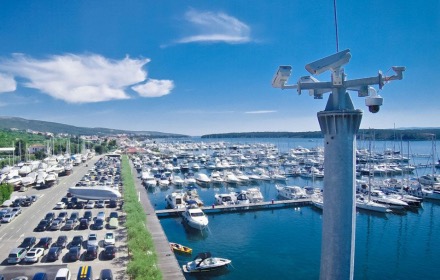 ACI marina Cres
Located on the island of Cres, leaning on the same-named town, ACI marina Cres gives you an opportunity of spending your time on the largest Croatian island. Unique vegetation, endangered species of griffon vultures (world's third-largest bird) and preserved nature call for you to explore. The marina has 440 sea berths, 70 dry berths and the possibility to tie up mega yachts up to 50 m in length. Along with the facilities inside are all you look for to take care of your boat.
44°57,6' N 14°23,7' E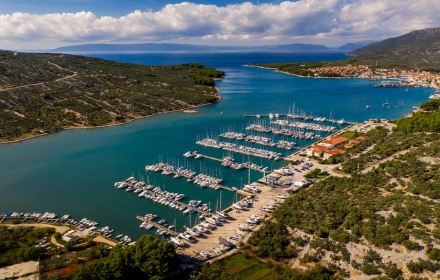 ACI marina Supetarska Draga
Located in the northern part of the Rab island, marina Supetarska Draga leans on the right side of the small lagoon-like bay that serves as a launching station towards the abundance of small islands around it. Island, complemented with beautiful beaches, are ideal for sailors to anchor in front and lose themselves in the blue. 328 sea berths and 53 dry berths are there to satisfy the demand of these sailing infatuators. Facilities inside help, but you won't be needing them a lot as you have plenty more on your mind while in Supetarska Draga and Rab. Enjoy!
44°48'11.4"N 14°43'34.3"E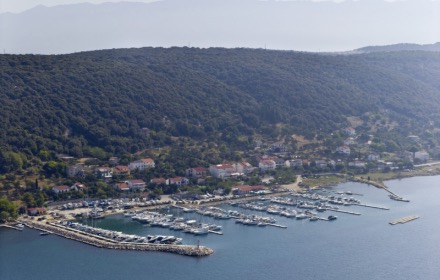 ACI marina Rab
Not a surprise that the island of Rab as well had some Romans wandering around in their time and founding Felix Arba town on Felix Arba island, but even Illyrians before had their fingers in fertile soil and greenery throughout the island.  These days, a small town hosts a harbor and marina with 142 berths in it behind the breakwater. Opened only seasonal, facilities such as reception, exchange office and restaurant close up on 31.10. and open on 01.04. Plenty of time to check it out, nevertheless. :)
44°45'28.5"N 14°45'47.5"E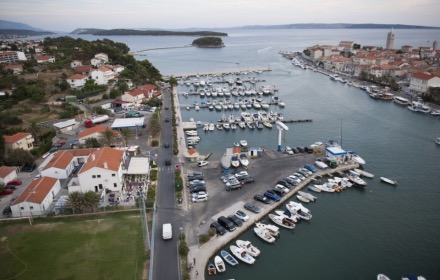 Marina Mali Lošinj
An island divided in half, and a town that connects it. Divided because of sea trade routes, this island brim with the connections towards the sea. During 19th century one of the biggest shipyards in Europe, a "baby brother" Mali Lošinj (Little Losinj) holds the tradition nowadays as well with lots of professional sailors coming from this small town, and a marina that carries the nautical part of the equation. 84 berths ready for boats up to 30 m in length, with facilities inside the marina and lovely nature outside is what you come for in havens like this for a little peace and quiet.
44°32'00.5"N 14°27'54.1"E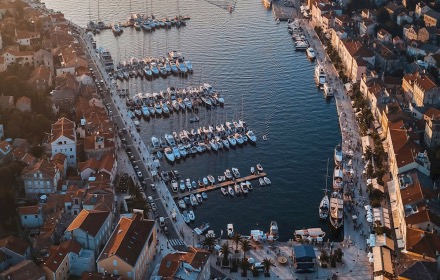 NORTH DALMATIA
ACI marina Šimuni
As if someone cut the island with a knife like a slice of famous cheese from the Pag island, ACI marina Šimuni finds itself protected inside the island's womb. Located on the west, the "clad" side of Pag, this marina is protected from the Bura wind that tore the eastern side during the millennia, making it a yin-yang island.  The last marina in the Kvarner archipelago, with191 sea berths, and 55 dry berths for true sailors wanting to enjoy in beautiful nature and products of nature, such as well-known Pag lambs, or just those stopping by on their way to the famous Zrće beach party oasis with different kind of stock wandering around. :)
44°28'15.7"N 14°57'18.2"E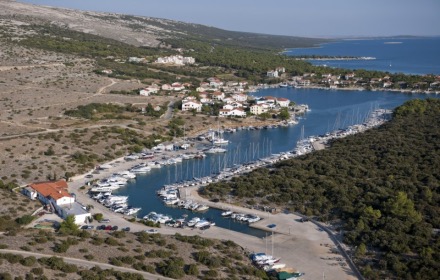 Marina Veli Rat
Situated on one of the numerous islands of Zadar archipelago, Dugi otok (Long island), marina Veli Rat offers rest and safety when touring in an island maze.  With100 berths available all year round, protected from the winds and with sanitary facilities, exchange office, restaurants, rent-a-car or laundry service, it has everything you need on your way to other similar beauties.
44°08'35.4"N 14°50'52.3"E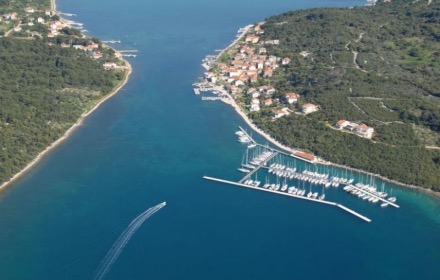 Marina Borik
Well-protected from winds by two breakwaters, on the western bank of city of Zadar, marina Borik is a must when in vicinity. The airport only 8km away serving as 1st option in getting to Zadar, and it's relative proximity to Central Europe's touristic pool make Zadar and Marina Borik attractive starting point for sailing adventure. Surrounded by restaurants, sailing clubs, and bars giving you the facilities to choose from when you tie up your boat in one of the 177 berths and go out exploring numerous islands around this marina will grow under your skin.
44°07'51.6"N 15°12'35.0"E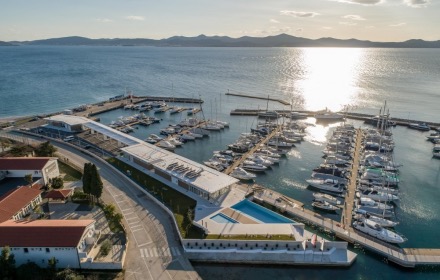 Marina Tankerkomerc Zadar
Grown into Zadar itself, this marina has become part of the city's everyday life. Just opposite the historic old town, it's streets woven in major historical events, marina Tankerkomerc allows you to tie your boat up and experience the work of "barkajoli", historical rowers between the old town and eastern bank of Zadar.    
300 sea berths and 200 dry berths, cranes, automatic yard and repair service are always at your disposal.
44°07'10.5"N 15°13'42.3"E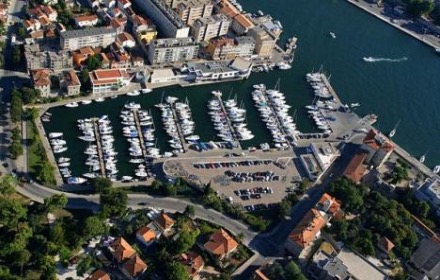 Olive Island Marina
A small family-type marina is located in Sutomiscica on the island of Ugljan, in a deep and well-protected bay. As a newly created club-type marina, it pays special attention to the guests by offering them a range of additonal facillities. Therefore, guests can enjoy spending time by the pool, on the sun deck, beach, bar, terrace overlooking the open sea or playing with their kids at the playground.
44°05'45.4"N 15°10'05.6"E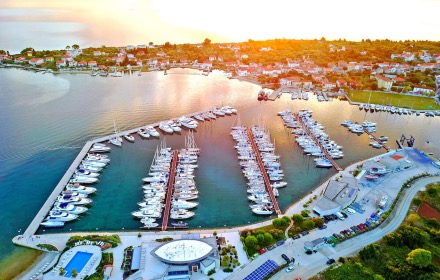 Marina Preko
Secured mooring with modern facilities in an attractive little town on the island of Ugljan is what you need when in the vicinity. This family marina offers a real island atmosphere, as well as easy access to other protected anchoring and mooring spots, offering the chance of exploring the hundreds of islets inside the Kornati National Park. 96 berths are at your disposal, gastro offer, medical and veterinary support, and boat maintenance are all available in the facilities inside the marina.
44°04'51.7"N 15°11'18.0"E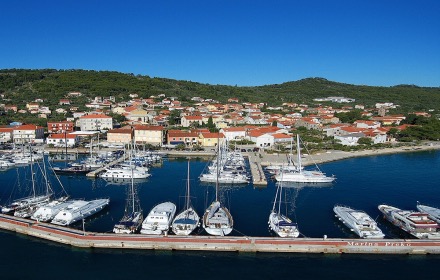 Marina Veli Iž
Located on the northern coast of the island of Iž, directly in the middle of the Zadar archipelago, marina Veli Iž is ideally positioned for exploring the islands around or visit Kornati National Park. A small and sheltered marina with 50 berths, electricity and water is all you hope for when coming in. Beware, the island of Iž does not have its gas station for boats. The closest one is in Zaglav on the neighboring island of Dugi Otok.
44°03'01.8"N 15°06'36.7"E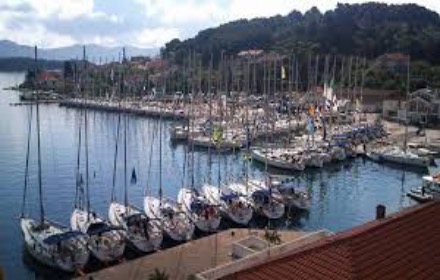 Marina Dalmacija
Located south of Zadar in a small village of Sukošan, marina Dalmacija is something to behold. It is an example of the modern marina. Well designed, with wide berths stretching like flower petals across the "Golden harbor" as the bay is called, the marina even has a beautiful semi-circle beach on the outside bank. Space is not reserved solely on water vehicles, but the land ones as well. You will have no problem parking your car when coming to this destination, as you will always have room for your boat with more than 1000 berths in the sea and 300 on land. The Zadar airport easily reachable, marina's modern facilities and lots of islands practically on the palm of your hand...what are you waiting for?! Sukošan, Croatia
44°03'11.9"N 15°17'48.8"E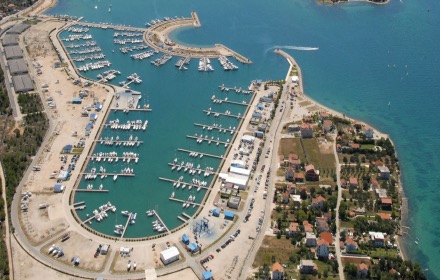 Marina Kornati
The "town of kings" can be your port of choosing as Biograd once was a royal estate of Croatian kings, and nowadays it's a modern yacht harbor and a cradle of nautical tourism in Croatia. Situated in a perfect place for exploring numerous islands around, marina Kornati with its 15 piers equipped with 750 berths, connected to water and electricity supply, and enough room on land for servicing and maintenance of vessels is an ideal starting point. Always investing in modern technical equipment, emphasizing environmental protection and customer satisfaction, this marina always keeps an eye on the future.
43°56'31.4"N 15°26'42.6"E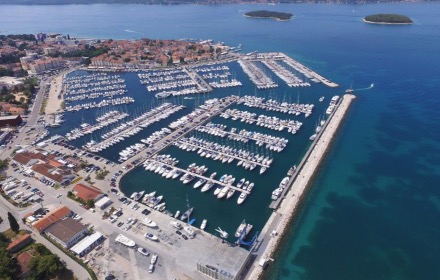 Marina Šangulin
Located in the same bay of the Biograd peninsula as Marina Kornati, only on the southern side, Marina Šangulin offers 100 secure berths with electrical and water connections. Showers, bathrooms, reception restaurants, supermarkets, post-office, petrol station, pharmacies are all in or near the marina itself, providing a quick option when in need.
43°56'22.7"N 15°26'30.8"E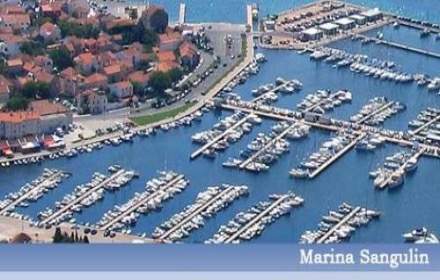 ACI marina Žut
A part of Kornati Archipelago, the island of Žut finds itself in the middle of heaven on Earth. Not much to see on the island itself, but seeing a handful of nothing, the serenity and hearing the silence around is what lots of sailors want. 135 berths, 15 anchoring buoys and availability to uphold yachts up to 40 m in length alongside the reception with an exchange office, showers and toilets, restaurant and a market make this marina a useful stop in heaven. Opened seasonally, from April until November.
43°52'58.1"N 15°17'06.6"E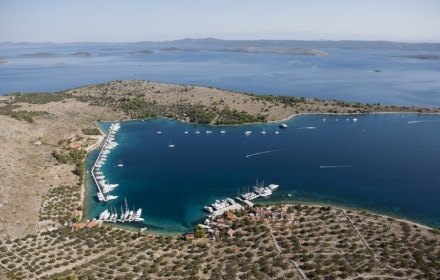 Marina Hramina
The island of Murter, connected with the mainland by 20m long bridge at the town called Tisno (eng. Tight), has even 3 marinas on itself. The first one is Marina Hramina, located in the town of Murter in a perfectly protected bay against all winds as the bay has a semi-circle shape and three small islands guarding the entrance. Close to the Kornati and Krka National Park, this marina is a good starting point to sail away and explore the islands. Nautic shops, supermarket, souvenir shop, laundry facilities, and other services are there to make your stay more simple.
43°49'34.1"N 15°35'38.5"E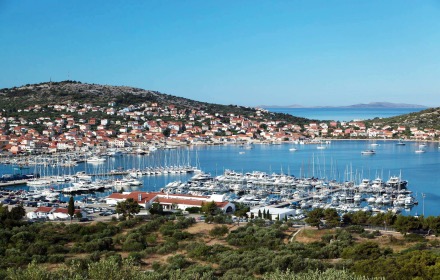 Marina Betina
Neighboring port to Marina Hramina, Marina Betina finds itself in the town of Betina on the NE side of Murter island. Close to the National parks and other beauties, this marina will give you a warm welcome with its 200 berths and 100 land berths, supermarket, exchange office, restaurant, and other facilities.
43°49'34.8"N 15°36'09.1"E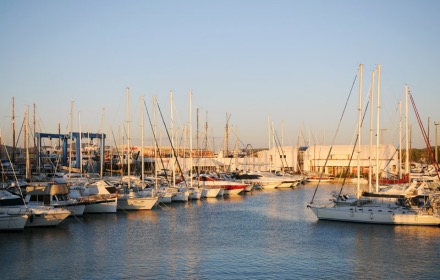 ACI marina Jezera
The last marina on Murter, in the southern part of Jezera Bay, ACI marina Jezera is protected by a breakwater on the eastern side and a small island in front as a cork ejected from the champagne bottle. It has 233 berths and 60 dry berths, facilities such as reception with an exchange office, restaurant, swimming pool, showers and toilets, laundry, repair shop, sailing school, fuel station. Opened all year.
43°47'02.0"N 15°38'34.7"E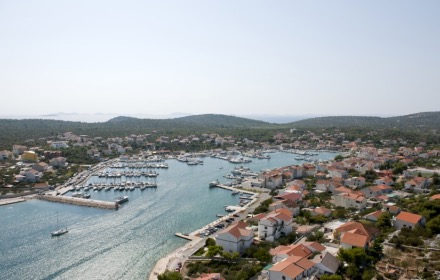 ACI marina Piškera
Another marina in Kornati Archipelago, located between the islands of Piškera and Panitula Vela, off the northern coast of Panitula Vela, ACI marina Piškera is well-protected from the northerly bura wind, but a little less so from the southerly winds. It has 118 berths for boats up to 30 m in length. Facilities are made of reception with an exchange office, restaurant, bar, showers and toilets, laundry, market. Opened seasonally, from April until November.
43°45'30.9"N 15°20'46.7"E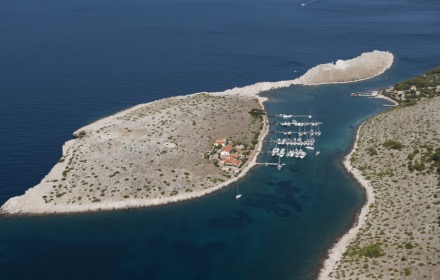 Marina Tribunj
A 1st category and a Blue Flag marina, Marina Tribunj is positioned in a natural port of this village. Close to the National Park Krka, as well as towards the neighboring islands and Kornati National Park, it is worth visiting and checking out the buzz of the village in the summer.  220 sea berths and 50 places on land, along with a gas station and top-quality boat service, apartments and pleasant staff are there to get the smile on your face.
43°45'18.9"N 15°44'46.8"E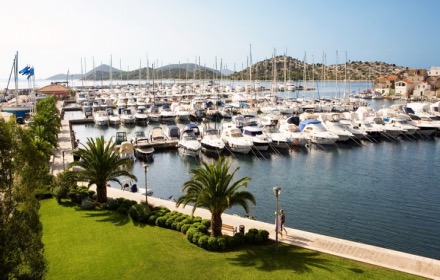 ACI marina Skradin
At the mouth of the river Krka, just as you pass by the bridge, the old town of Skradin reveals in front of your eyes. This historical town is the main point of departure to the National Park Krka and its famous waterfalls. Inside the town, ACI marina Skradin finds its place as one of the favorite marinas for boat owners because of the freshwater the marina lies on and because it can accommodate mega yachts up to 70 m in length on its 180 berths. Reception with an exchange office, lots of restaurants and shops reveal Skradin's touristic nature. There is no fuel station nearby so you need to go in the port of Šibenik (8 nm).
43°49'03.6"N 15°55'29.9"E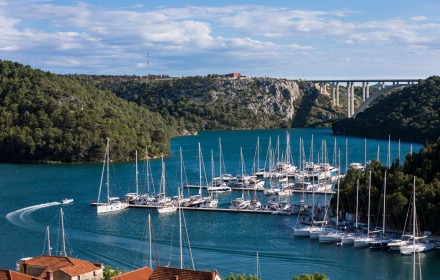 ACI marina Vodice
The town name Vodice (eng. waters) reveals the nature of its history, present and future. Well-know for the wells that never dried down, nowadays Vodice is a tourism center, nautical especially. The ACI marina Vodice is protected from southern winds by two breakwaters, has 290 berths and 60 dry berths, all with water and power supply. Available facilities consist of reception, exchange office, supermarket, restaurant, coffee bar, laundry, repair shop, parking. Opened all year.
43°45'31.1"N 15°46'44.3"E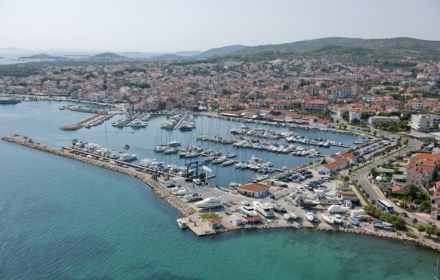 Marina Mandalina
Just outside the historic town of Šibenik, located on the peninsula, Marina Mandalina reveals the modern facilities, a shipyard and a petrol station in its vicinity. In addition to more than 400 sea and land berths, it is the only site in Croatia for mega-yachts up to 140 m in length. Plenty of parking places, the rich-in-culture town of Šibenik on the palm of your hand and Krka National Park just a few miles away are enough to invite you to this quiet marina.
43°43'10.3"N 15°54'03.3"E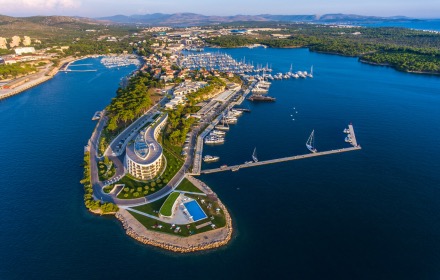 Solaris Yacht Marina
Right next to the Solaris Camping Beach Resort and Solaris Villas Kornati, this marina is specific because of its great interesting location inside the bay looking like a hole connected to the sea outside, protected of winds and rough sea. Having the Krka and Kornati national parks, a picturesque and beautiful archipelago of Šibenik with its numerous islands, islets, and cliffs in the vicinity cannot do harm when attracting guests. In the middle of the marina, a little island forms a beautiful spot hosted by the Captain's Club coffee bar where you can fresh up and relax.  
About 300 sea berths are arranged in a circle around the bay, the ones around the Captain's club particularly popular because of the deeper water and...you know what. Plenty of parking places and unique facilities that come with these kinds of resorts can do you good when coming in this marina.
43°41'58.9"N 15°52'42.4"E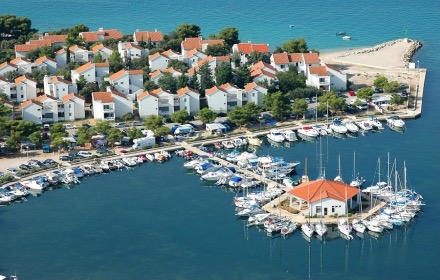 Marina Kremik
Located near town Primošten, almost in the center of the Adriatic sea, Marina Kremik is one of the best-protected marinas on the Croatian coast. Being built in 1983, it has a long nautical tradition. Completely renovated in 2003, the new and modern facilities, 393 berths in the sea and 150 on land supplied with water electricity can give you all you need when visiting. Opened all year.
43°34'12.8"N 15°56'20.4"E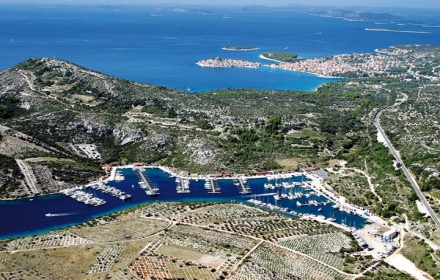 MIDDLE DALMATIA 
Marina Frapa
Situated in the central part of the Croatian coast, between Šibenik and Split, in Rogoznica, bay of Soline, sheltered from all directions lies MArina Frapa. Probably the most luxurious marina on the Adriatic, winner of the Best Croatian marina award more than 10 times, this marina has it all. Spacious berths and jetties for 450 yachts, around 150 land berths, modern facilities such as hotel, yacht club, restaurants fuel station on the floating pontoon, the main building on an artificial island, parking spots in abundance...all of this make the reputation of Marina Frapa.  Opened all year.
43°31'54.9"N 15°57'38.3"E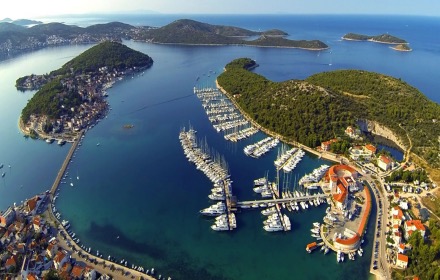 Marina Agana
In a town named Marina rises Marina Agana with 134 berths and 70 land berths, all serviced with electricity and water. Situated near popular tourist centers such as Trogir and Split, and large Dalmatian islands Hvar, Brač, Šolta, Marina Agana is a good option if you want a smaller and quieter base to start your journey.  Facilities inside such as laundry, bistro, and parking are enough to satisfy your basic needs. Surveillance and guard service are an extra option. Opened all year.
43°30'46.9"N 16°06'49.7"E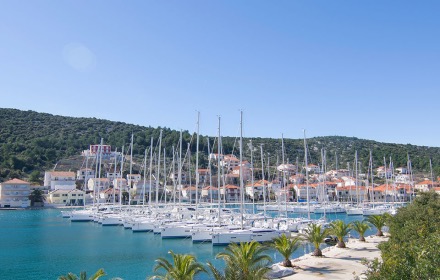 Marina Baotić
In Seget Donji, two kilometers away from Trogir, Marina Baotić emerges as a modern pearl inside the history and tradition of a small fishing village. Sailing trips to the many islands and bays in the Central Dalmatian region seem so natural starting from Marina Baotić. You shouldn't have a problem finding a berth from 400 of them, constructed to the highest technical and ecological standards. The marine filling station, repair workshop, exclusive holiday apartments, two restaurants, and a cocktail bar, as well as shopping facilities, a fitness studio, a pool, and similar facilities, are there to satisfy all of your needs. The marina has its own gas station.
43°31'03.6"N 16°13'55.3"E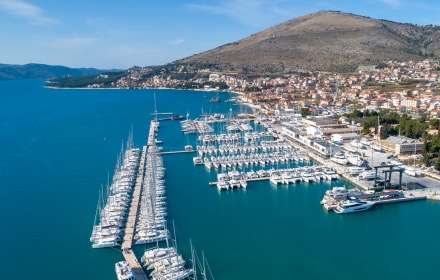 ACI marina Trogir
Located on the island of Čiovo, just opposite of the historical town of Trogir, ACI marina Trogir has 174 berths and 35 dry berths to accommodate all that wish to sail out from this cultural gem. Plenty to see in Trogir, it's center an only couple of hundred meters away from the marina, reachable through an old stone bridge that connects the island and the town. The surrounding islands and bays, the proximity of Split and the airport (6km away) make Trogir and the marina a most desirable starting point. Facilities such as reception with an exchange office, ATM, restaurant, café bar, fitness center, grocery stores, and nautical equipment store, sailing school, repair shop contribute to the attractive nature of this marina. It has a gas station that divides it from the SCT marina. Opened all year.
43°30'48.0"N 16°14'52.2"E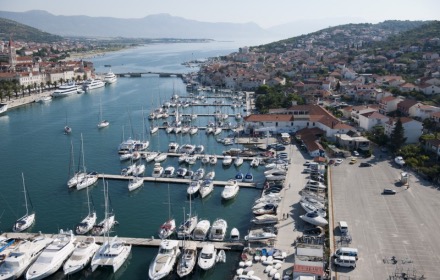 SCT marina Trogir
Glued on the former mentioned ACI marina, SCT (SCT - Service Center Trogir) marina Trogir is a new and modern marina built on the previous shipyard, thus continuing the nautical tradition. Divided from ACI marina by the gas station, this marina has 256 sea berths for boats 12-70 m in length, with wide and spacious berths giving the most comfort along with the standard water and power supply. The Service Center in its name is not in vain as the marina has two travel lifts with the load-bearing capacity of 100 t and 600 t, very good service specialists for repairing works to steel, aluminum and plastic, maintenance, repairs and installations of all boat systems and equipment, have licensed services of world-renowned producers of marine engines and work on maintenance of sails, masts, and deck equipment. A marina for everything.
43°30'46.4"N 16°14'34.9"E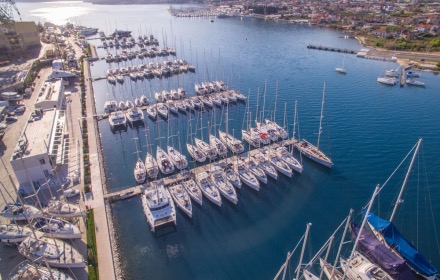 Marina Kaštela
Located in Kaštela Bay, in the middle between Trogir and Split, Marina Kaštela is a safe harbor for private and charter operated yacht. Only a few kilometers away from the airport and major centers, this marina can provide you with the balance between the modern and hectic world, and calm and quiet world of the marina inside a village, and yet close to everything. With about 400 docking places, it has more than enough to attract and accommodate many boaters. It doesn't have its gas station and the closest ones are in Split and Trogir.
43°32'48.4"N 16°24'06.9"E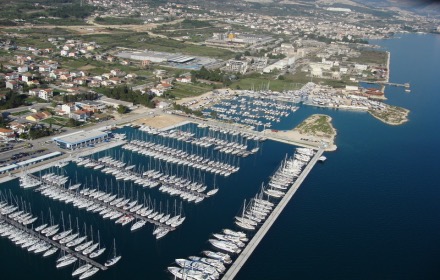 ACI marina Split
Our base, our home. Located in the north of the Sustipan peninsula, with a breakwater that is providing excellent protection from rough seas and southerly winds, this marina finds itself in the center of the touristic center of Dalmatia and Croatia, the city of Split. You can take a 10min walk and you will come to the Diocletian's palace, home of the former Emperor and home of Game of Thrones as well. Sailors can enjoy in 318 berths and 30 dry berths, reception, market, a restaurant with cafe bar, laundry, toilets and showers, nautical equipment store and repair shop. The gas station is right in front of the marina, but take care as it sometimes gets queued up. The most important of all, you can find SunLife's office and your author inside. I'm probably still writing this marina piece so drop by. Opened all year.
43°30'04.3"N 16°25'47.0"E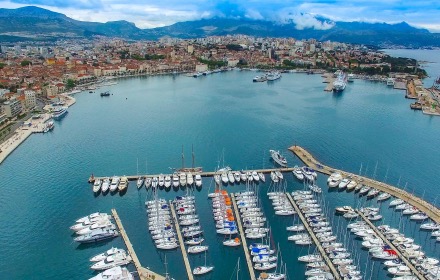 Marina Lav 
An integral part of the luxurious Le Méridien Lav hotel complex, Marina Lav has all the perks that go with such a connection. 74 sea berths for vessels up to 40m give the boat owners not just a place to tie up the boat and get water and power, but also a chance to enjoy all the amenities of a 5-star hotel Le Meridien Lav offers. Parking places are not an issue, as well as the service and other facilities that will put you on the verge of mindless while inside this marina as you can use the SPA and sports facilities for reasonable prices.  During summer months, Marina Lav also offers berth on the outside of the breakwater, ideal as transit berth for mega-yachts.
143°29'31.8"N 16°32'19.3"E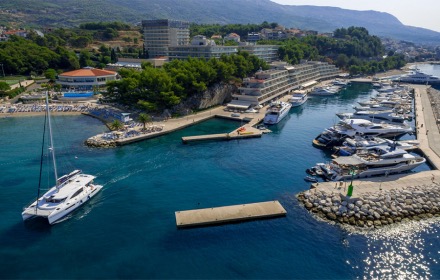 Marina Martinis Marchi
On the Island Šolta, near the luxurious Martinis Marchi Heritage Hotel & Restaurant in a small village of Maslinica, newly built Marina Martinis Marchi provides a beautiful mooring place for luxurious boats and their owners. Inside the marina, there are 50 berths for yachts measuring up to 35m, and even longer ones can be accommodated on the outside of the breakwater. Breathtaking nature, famous Blue Lagoon across the channel, the hotel inside the old castle of Marchi family and an amphitheater with 500 seats built in ancient Greek style truly depict why Martinis Marchi Marina has been the winner of Best Small Marina in Croatia award for 2018.
43°23'51.4"N 16°12'22.6"E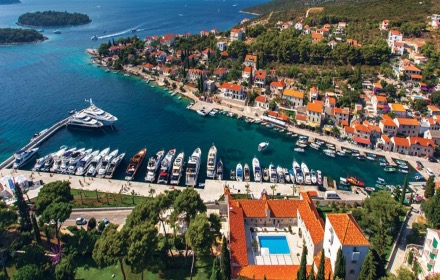 ACI marina Milna
On the western side of the island of Brac ACI marina Milna, with its 144 berths and 15 boat places on land, provides a haven to sailors since ancient times as it is the best protected harbor in this area. Nowadays, the nautical tourism gets this small village into a frenzy each summer as it is positioned in the middle of the channel and provides a great stop to boaters on their way to the most attractive destinations. The gas station inside offers relief from Split's overcrowded one so lots come to Milna sometimes only for that reason as well. All berths have connections for water and power supply. Other facilities are the reception, exchange office, restaurant, café, toilets and showers, repair shop, 10 t crane, slipway (120 t). By the pier, there are several supermarkets and grocery stores. Opened all year.
43°19'31.7"N 16°26'53.2"E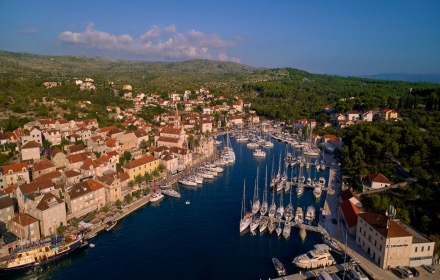 ACI marina Palmižana
Opposite of the well-known town of Hvar, touristic center and cultural pearl of Croatia, on the island of Sveti Klement lies ACI marina Palmižana. It is a secure shelter from the winds, but the strong eastern wind may cause problems. Situated on a car-free island, this marina will bring you peace and a step back from the usual life. It has 180 berths, an exchange office, restaurant, café and lots of clubs and good restaurants on the surrounding islands and Hvar itself. Opened seasonally, from April until October.
43°09'46.4"N 16°23'32.6"E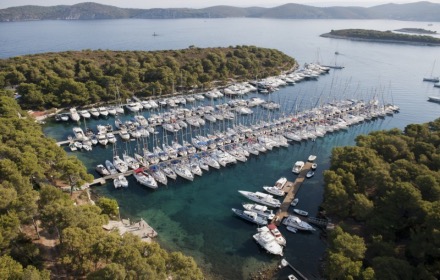 ACI marina Vrboska
In the middle of the Hvar island, indented westwards in a narrow bay a picturesque town of Vrboska shines as a hidden jewel in a rich Croatian crown. One of the smallest towns on Hvar turned out to be one of the most popular ones for its mixture of stone houses building styles, history and fairy tale streets, bridge and nature. This is the reason why ACI built the marina inside with 119 berths and 12 dry berths. Beside the town beauties and those around, the facilities such as reception with an exchange office, laundry, parking, and a few restaurants that continue the tradition of great cuisine can occupy you enough when dropping by. Opened seasonally, from April until October.
43°10'43.6"N 16°40'32.6"E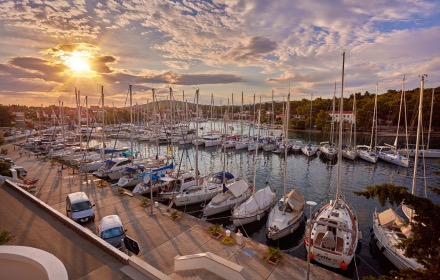 Marina Tučepi
Along the Dalmatian coast, in the center of a small village of Tučepi, MArina Tučepi offers 50 berths with water and power supply. Many restaurants and bars, a supermarket, bank and post office provide all the services you need. Opened all year.
43°15'51.6"N 17°03'25.3"E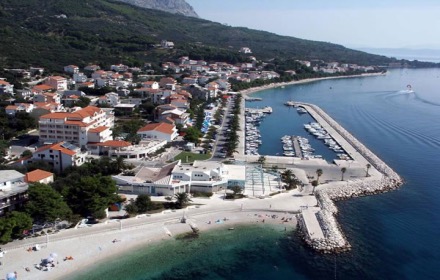 Marina Baška Voda
In the small village along the Makarska Riviera, Marina Baška Voda is a kind of quick-stop marina to refill your batteries in peace, visit a nice restaurant and enjoy in local customs. With 180 berths equipped with electricity and water and facilities such as reception, private parking, sanitary, restaurant, laundry, car wash, it has just enough to keep it interested. It is open all year round.
43°21'29.7"N 16°56'52.3"E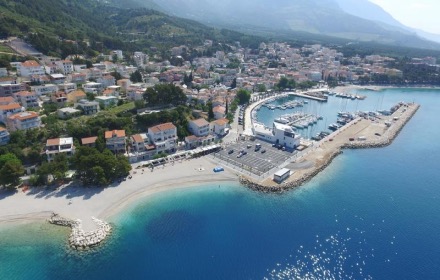 SOUTH DALMATIA 
ACI Marina Korčula
Outside the walls of Korčula Old Town, one of the best-preserved medieval towns in Croatia, ACI marina Korčula finds its place just outside, looking just like an integral part of this town. Surrounded by many smaller islands whose beaches serve as a canvas for yachts, it truly is a boaters paradise. 160 berths inside the marina, each having it's water and power supplies, are just enough to accommodate all boaters eager to see the beauties in and around Korčula. The marina is well protected from all winds, a very safe place to moor, and has all the facilities to satisfy your needs. Opened all year.
42°57'32.2"N 17°08'08.9"E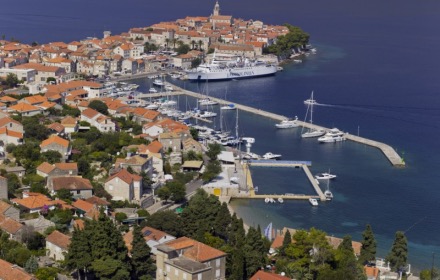 ACI "Veljko Barbieri" Slano
The only ACI marina with a name, named after the co-founder of ACI marinas, famous Croatian chef, Veljko Barbieri, ACI marina in Slano lies in a beautiful bay in a small village of Slano. 193 sea berths, all the facilities you need, and more are to your disposal, along with the cultural treasure of this place, dating back to the reign of Dubrovnik Republic. Arboretum, Franciscan monastery, sacral and private buildings, beautiful beaches, Dubrovnik and Elafity islands nearby, as well as Ston...plenty to see and do starting from Slano.
42°47'00.8"N 17°53'24.2"E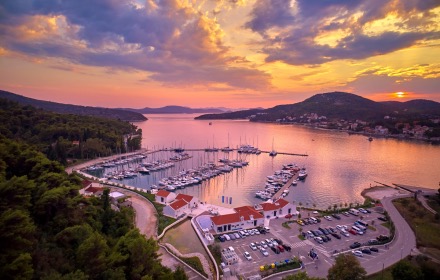 ACI marina Dubrovnik
Situated in a town Mokošica, 7km away from Dubrovnik and 22 km (30min) from the Dubrovnik Airport, ACI marina Dubrovnik is one of the safest marinas in Croatia thanks to its position inside the long bay, in the mouth of river Ombla. 380 berths, 120 dry berths and the fact that mega yachts up to 60m in length can be accommodated inside gives this marina the great advantage that it exploits every summer. The pearl of Adriatic, the city of Dubrovnik, only 10 min away, beautiful islands and Pelješac peninsula in vicinity uncover so many opportunities to explore the nature, culture, and gastronomy of this area. With the standard ACI reception with an exchange office, a restaurant, cafe bar, market, showers etc., sports courts and swimming pool is at your disposal to mix up your stay. Opened all year.
42°40'09.5"N 18°07'41.2"E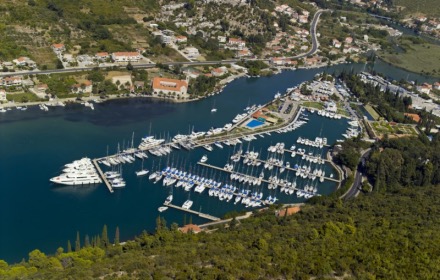 Marina Frapa Dubrovnik
Inside the city of Dubrovnik, opposite to the ferry and cruiser port of Gruž, Marina Frapa Dubrovnik opened its piers in 2019 and immediately attracted the attention of boaters thanks to its great location. 220 berths, each equipped with water and electricity supply, a pool bar on the top of the main building, night lights that illuminate the entire marina and give it a mystical look, the gas station just a thought away, the proximity of the Old Town, the islands....everything on the palm of your hand! Opened all year.
42°39'28.0"N 18°04'50.4"E